The limited edition 7-inch single will be out on April 18 to mark Record Store Day 2020

Pink Floyd's last-ever performance of their 1967 debut single Arnold Layne is to be released on 7-inch vinyl for Record Store Day 2020.
The single was recorded at the Syd Barrett Tribute Concert – The Madcap's Last Laugh – at the Barbican in London on May 10, 2007 – the last time David Gilmour, Nick Mason and Richard Wright performed onstage together.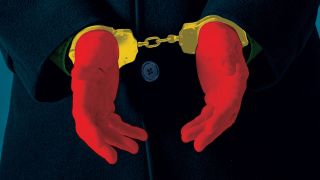 The trio were joined on the night by keyboardist Jon Carin and Oasis and Ride bassist Andy Bell.
The 7-inch single is one-sided and features cover art created by long-time Floyd collaborators, photographer Rupert Truman and designer Peter Curzon, both from StormStudios. The design was overseen by Pink Floyd creative director Aubrey Powell.
The flip side of the vinyl features an etching of the handcuff cover design, with the single mixed by Damon Iddins.
This year's Record Store Day will take place on April 18 and will once again see artists from across all musical genres launching limited edition releases in celebration of independent record stores across the world.
For more on this year's Record Store Day, visit the official website.
After the swift and monumental success of The Dark Side Of The Moon, Pink Floyd were finally able to take a break from the relentless touring and recording they had had to undertake since 1968. David Gilmour discovered Kate Bush and produced Unicorn, while Nick Mason also entered the production world, supervising recordings by Principal Edwards' Magic Theatre and Robert Wyatt.
VIDEO 1975 – Pink Floyd premiere their Wish You Were Here album in a performance that takes in fireworks, Spitfire planes flying overhead, and even a model plane that crashes into the stage.
The sessions for Wish You Were Here at Abbey Road's Studio Three lasted from January until July 1975, recording on four days each week from 2:30 P.M. until very late in the evening. The group found it difficult at first to devise any new material, especially as the success of The Dark Side of the Moon had left all four physically and emotionally drained.
Pushing the issue, Waleed asked Roger if Richard's death had made him view the relationship in a different light.
'No, it didn't change how I feel about him,' Roger replied. 'He was super important to all that work we did together.'
&
Keyboardist Richard Wright later described these sessions as "falling within a difficult period", and Waters recalled them as "torturous".Mason found the process of multi-track recording drawn out and tedious. while David Gilmour was more interested in improving the band's existing material.
Gilmour was also becoming increasingly frustrated with Mason, whose failing marriage had brought on a general malaise and sense of apathy, both of which interfered with.
Wish You Were Here's cover image consists of two businessmen meeting in the street, greeting each other with an empty handshake, one man on fire.
The image was inspired by the idea that people tend to conceal their true feelings, for fear of "getting burned." This was a common phrase in the music industry, used often by artists denied royalty payments. In the image, two stuntmen were used, one dressed in a fire-retardant suit covered by a business suit. His head was protected by a hood, underneath a wig.
The photograph was taken at the Warner Bros. studios in Los Angeles. Initially the wind was blowing in the wrong direction, and the flames were forced into the stuntman's face, burning his mustache. This was easily remedied, however, with the two stuntmen changing positions. The photograph was later reversed.