Jagger's  amazing show: Rolling Stones rock Soldier Field for the 2nd night-
The stones opened with Jumping Jack Flash (the first date was Street fightin) and there were not many changes in the lineup except for the song voted on request: Monkey Man.
They excluded Angie and Dead Flowers from the acoustic set set  to insert Play with Fire and Sweet Virginia instead.
An energetic Mick Jagger skipped, spun, sprinted and pranced tuesday night as the Rolling Stones launched their North American tour at Chicago's Soldier Field.
They have three doctors on eight-hour rotations. Mick wears a monitor while performing and keeps a defibrillator nearby, wherever he is. They have emergency routes planned from every hotel and venue to the closest hospitals."
The 75-year-old showed no sign of ill health three months after the tour was postponed because a doctor said he required medical treatment.
By all visible indications: Jagger was Jagger. SET LIST Below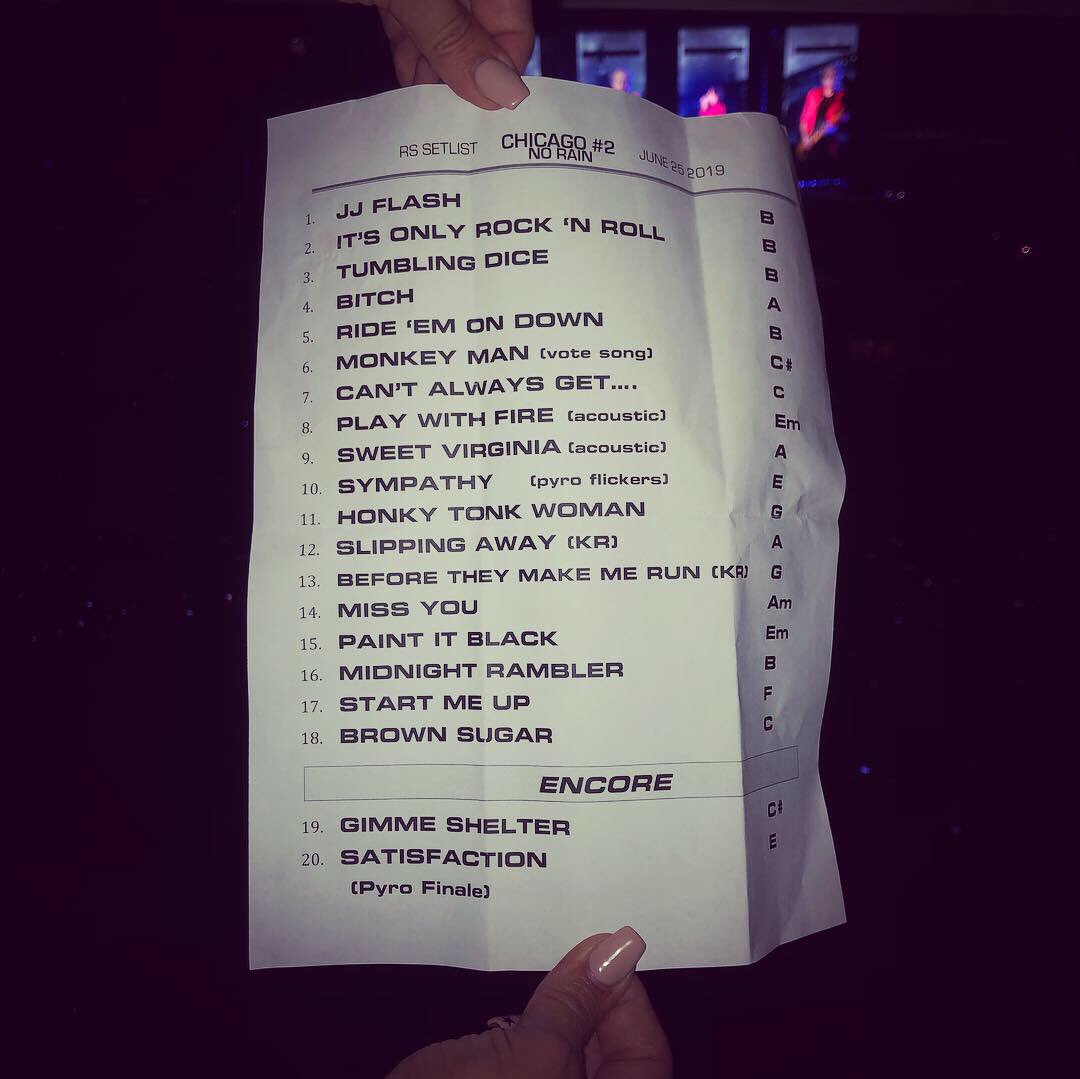 Before a sold-out crowd of around 60,000 at the Chicago Bears home stadium, the band's finger-wagging frontman opened with "Street Fighting Man," running from the stage in the end zone area and down a narrow stage jutting into the crowd on what is normally the 30-yard line of the football field.(www.idahostatesman.com)
1 day to go Chicago! #stonesnofilter pic.twitter.com/C1dvtyY2Nt

— The Rolling Stones (@RollingStones) June 20, 2019
On the opening "Street Fighting Man," the frontman seemed to be in a fighting form. All rubbery legs, he pranced, punched and primped and then started skipping down the runway before turning into a full-on sprint like a breakaway halfback headed for the Chicago Bears end zone.
• Jagger busted out more moves than usual, adding locking and popping to the usual rooster strut, mincing sashaying, shadowing boxing, twisting and shouting. You know those Mick moves.
During a brief acoustic set, the Stones offered the ballad "Angie" and when Jagger sang "ain't it good to be ali-ai-ai-aive," you felt he meant it.
• Vocally, Jagger was loud and clear, finding a deep, twangy affected voice on "Dead Flowers," a gorgeously soulful falsetto on "Miss You" and an affecting croon on the ballady beginning of "You Can't Always Get What You Want." And he ended "Sympathy for the Devil" with joyous "whoop-whews" that floated over the 60,000 singalong fans.
• "Honky Tonk Woman" was bursting with energy — and featured an animated video of a dolled-up woman squeezing an anatomically correct heart removed from some guy's chest. The symbolism was hard to ignore. (Startribune)
Countdown to the first concert of the @rollingstones No Filter Tour at Soldier Field on June 21st! Great to be back on the road! #StonesNoFilter pic.twitter.com/4boJWbZgZB

— Keith Richards (@officialKeef) June 20, 2019
Some Rolling Stones' Backstage Demands

According to a leaked rider for their recent US tour, Sir Mick Jagger and co have a standard list of backstage requirements for a rock band: a never-ending flow of alcohol and cigarettes, and butlers on hand 24 hours a day.  they also need a set of written instructions on how to use all the electronics in their hotel rooms.Their chief requirements were that the hotel bar remain open for as long as they needed it and that several butlers be supplied to handle their room service requests.the band's rider has included a snooker table, HP sauce, shepherd's pie and satellite television on which to follow the cricket.The rider for that tour revealed that Watts christened his dressing room "The Cotton Club" after the legendary New York nightclub, while the health-conscious Jagger called his "Workout". Wood's room was known as "Recovery" and Richards chose to call his "Camp X-Ray".
A bottle of Brandy, Reruns of Pawn Stars on VHS, A selection of classic car magazines.
The Stage
During "Start Me Up" late in the 122-minute performance, Jagger seemed refreshed and renewed, emphatically punching the air like the starter of a race. (The show was about eight minutes shorter than the Stones' last Twin Cities performance in 2015 at TCF Bank Stadium.)
Rolling Stones 2019 No Filter U.S. Tour
June 29 – Ontario, Canada @ Burl's Creek
July 3 – Washington, DC @ FedExField
July 7 – Foxboro, MA @ Gillette Stadium
July 14 – New Orleans, LA @ Mercedes-Benz Superdome (Tickets on sale May 31st at 10am local time)
July 19 – Jacksonville, FL @ TIAA Bank Field
July 23 – Philadelphia, PA @ Lincoln Financial Field
July 27 – Houston, TX @ NRG Stadium
August 1 – East Rutherford, NJ @ MetLife Stadium
August 5 – East Rutherford, NJ @ MetLife Stadium
August 10 – Denver, CO @ Broncos Stadium at Mile High
August 14 – Seattle, WA @ CenturyLink Field
August 18 – Santa Clara, CA @ Levi's®️ Stadium
August 22 – Pasadena, CA @ The Rose Bowl
August 26 – Glendale, AZ @ State Farm Stadium
August 31 – Miami, FL @ Hard Rock Stadium
Fans unable to attend the rescheduled dates can access their Ticketmaster account for a full refund.
The U.S. leg of the band's No Filter Tour was scheduled to kick off in Miami, Florida on April 20, with 17 shows planned over 10 weeks.