Barbra Streisand was the official inspiration behind Bob Dylan's Lay Lady Lay hit, according to an unearthed 1971 'interview' with late blues star Tony Glover.
A long-lost trove of Bob Dylan documents, including the singer-songwriter's musings about anti-Semitism and unpublished song lyrics, has sold at auction for 495,000 US dollars (£367, 000).
The letters reveal Dylan, born Robert Allen Zimmerman, changed his name because he worried about anti-Semitism, and wrote Lay Lady Lay for Streisand – a music myth that the singer/songwriter has never publicly addressed.(Torontosun.com)
It has long been believed Dylan wrote the tune for the 1969 movie Midnight Cowboy, but the singer told Glover he created it as a tune for Streisand, without elaborating on the nature of their relationship.
The widow of Tony Glover, the late Minneapolis folk icon known as one of Bob Dylan's most intimate early musical associates, is auctioning Glover's archives in an online sale taking place Nov. 12-19.
Tony Glover archives, including rare Bob Dylan recordings, going up for auction. It's a collection of extraordinary historical significance, particularly for anyone interested in Dylan's Dinkytown period and his lifelong Minnesota connections.
Bob Dylan kept in close touch with his friend Tony Glover. The pair's conversations and letters — published on Rolling Stone for the first time — show a Dylan that few people knew.
Dylan noted that while his 1962 debut didn't sell very well, he received fan mail from, as he recalled, "very odd places," like "little towns in Idaho, or Michigan, Ohio, Louisiana, Florida — little places that you hadn't ever heard of." That positive feedback spurred him onward. (To read the full article click here)
Glover and Dylan both agreed it was the recording of with its hit "Blowin' in the Wind," that turned Dylan into the newest darling of the folk revival.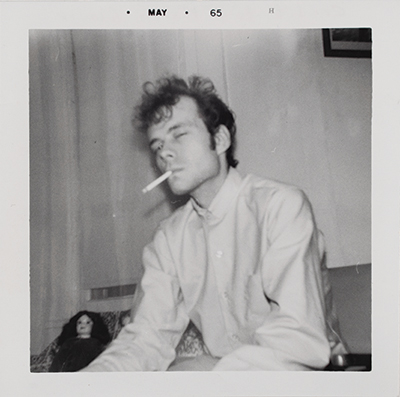 Glover asked how he composed his signature song. "Every day I'd be writing songs — some I'd remember, some I wouldn't," Dylan recalled. "The general scene at that time was to consistently write as much as you could — almost to the point where if you were performing, you'd have a new song to perform that night.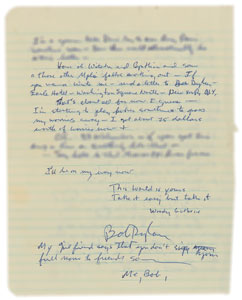 You were just writing all the time. Everyone around at that time was doing that. It was like machinery the way you turned out songs in those days. 'Blowin' in the Wind' just happened to be the lucky one, the one that stuck. But I probably wrote a song the night before that, and I probably wrote one or two the next day which haven't been heard, which were probably in the same vein. To me it was just another song. It got singled out because a lot of performers were singing it."
On March 18th, 1971, Bob Dylan sat down in his Manhattan office, put his feet up on a table, strummed a guitar, and opened up like he rarely, if ever, had before. He was talking to his old friend Tony Glover, the first of four interviews they conducted that year.
At various moments Dylan reacts to being booed at Newport in 1965 ("It was a strange night"), recalls writing "Subterranean Homesick Blues" ("story of a mad kid"), remarks on his craft ("My work is a moving thing"), and dismisses his honorary doctorate from Princeton ("a strange type of degree — you can't really use it for anything"). Feeling unfairly dissected by dimwitted critics who milked his lyrics for autobiographical information, he fired back. "Do you think Johnny Cash shot a man in Reno?" he asked. "Or that Paul Simon would throw himself down over a troubled Hudson River and let somebody use him as a bridge?"
Dylan has sold more than 100 million records globally, received 11 Grammy Awards, an Academy Award for 'Things Have Changed' (Best Original Song), and has been inducted into both the Rock and Roll Hall of Fame and the Songwriters Hall of Fame. In 2012, he received the Presidential Medal of Freedom from President Barack Obama, and in 2016, was awarded the Nobel Prize in Literature.
Glover hoped to use the interview transcripts — extensively annotated and revised in Dylan's handwriting — for an article in Esquire. Nothing ever came of the project because Dylan eventually lost interest in it. The fiercely loyal Glover, who died in 2019, safeguarded the tapes and transcripts along with four letters and a treasure trove of other memorabilia he amassed from Dylan over the years. Beside the main interviews, there are six additional recordings of telephone calls between Dylan and Glover from 1969 to 1971.
On November 19th, RR Auction in Boston will sell this historic collection of Dylaniana on behalf of Glover's widow, Cynthia. It makes for an extraordinary time machine, bringing readers inside the mind of Dylan in the wake of the counterculture Sixties, an era that, from the safe perch of 1971, Glover deemed "a very destructive, mind-, body-, and soul-destroying time."
The Dylan-Glover friendship began around 1960, roughly the same time Dylan stopped attending classes at the University of Minnesota to play folk and blues music in Minneapolis clubs with Spider John Koerner, Dave Ray, and Glover. All three had consequential careers as musicians in the Twin Cities and beyond. Glover played blues harmonica with a complexity all his own, becoming an inspiration to Dylan, the Rolling Stones, and the Doors. "As far as harp playing went, I tended to keep it simple," Dylan recalled in Chronicles about his days in Minneapolis' Dinkytown. "I couldn't play like Glover or anything, and didn't try to. I played mostly like Woody Guthrie, and that was about it. Glover's playing was known and talked about around town, but nobody commented on mine."
Dylan was living in New York when Glover suggested the series of in-depth interviews. Only to Glover would he admit that listening to his mid-Sixties album masterpieces like Bringing It All Back Home and Highway 61 Revisited "spooked" him out. "You didn't sing songs like that and live a normal life," Dylan said. "In order to be that strong on one level, you have to be very weak in other ways.