Held at London's O2 Arena on Tuesday (March 3), Eric Clapton and friends studded Music For The Marsden benefit concert is being held to raise money for The Royal Marsden Cancer Charity.
A multi-artist, star-studded concert benefiting the Royal Marsden Cancer Charity   was held at London's O2 Arena on March 3. Participating performers announced thus far are Eric Clapton, Tom Jones, Gary Brooker of Procol Harum, Simply Red's Mick Hucknall, John Illsley from Dire Straits, Paul Jones, Mike Rutherford, Paul Carrack, Bonnie Tyler, Paul Young, Zucchero, Rick Wakeman and Yusuf/Cat Stevens. More names are expected to be added to the bill.
Clapton said, "This is a great cause and I'm honored to be part of the efforts to raise money for The Royal Marsden. I also couldn't say no to the opportunity to work with the other artists and bandmates in the line-up. I am sure it'll be a fantastic evening providing much needed support for this pioneering hospital."
For Clapton, the headlining appearance appears to provide further evidence that the singer-guitarist-songwriter is reconsidering his decision to scale back his live performances. He recently announced that he will lead a tribute to his former bandmate in Cream, Ginger Baker, who died Oct. 6 at age 80. That concert, set for London's Eventim Apollo Hammersmith on Feb. 17, will raise funds for the health and welfare charity Leonard Cheshire, which Baker was a supporter of. The show sold out immediately.
Eric Clapton, founding guitarist of Cream, is auctioning two guitars from his personal collection in support of the Crossroads Centre
The auction coincides with this year's festival, which was held in Dallas, Texas. Its lineup included Billy Gibbons, Gary Clark Jr, Sheryl Crow and many others. It also featured the Guitar Center Village, with interactive exhibits, clinics, and a range of rare and vintage guitars for sale.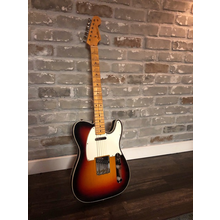 The guitars being auctioned are the No.3 prototype for the Gibson Custom Eric Clapton 1964 Firebird I, and a Fender Custom Shop Eric Clapton Blind Faith Telecaster, built by Todd Krause.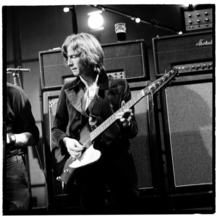 The Firebird is a precise replica (down to the case and the strap) of the guitar Clapton used on Cream's farewell tour in 1968, while the Blind Faith Telecaster, as its name suggests, is a replica of the Tele Clapton played with Blind Faith at Hyde Park in 1969. At time of writing, the top bid for the Firebird has reached $26,100, and the top bid for the Telecaster is $22,800. The auction has also raised $3,555 in direct donations to the centre.
The top bid on the 1964 Firebird I is currently $26,100, while the largest bid for the Blind Faith Tele currently stands at $19,000. The auction for the guitars, which kicked off during the recent Crossroads Guitar Festival in Dallas, ends on October 6.