Pink Floyd superstar's seafront home is now almost comfortably done

The Pink Floyd guitarist bought the former 19th century Turkish bathhouse with his wife, the novelist Polly Samson, in 2015.(Source Argus)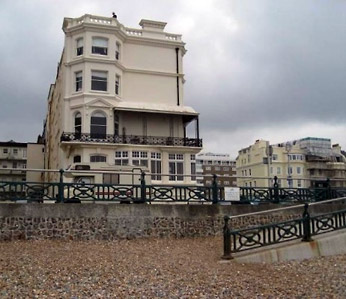 The couple had the original building demolished last year after it was found to be beyond repair.
They have since set about building a replacement which is true to the spirit of the bathhouse.
Allan Ramsay, 59, an artist at Phoenix Gallery Brighton, admired the work taking place but did not know the building belonged to Gilmour, who is one of the world's most revered rock guitarists.
The original Medina House dates from 1894, and formerly housed a laundry and women's slipper baths.
The distinctive three-storey building formed part of the larger Medina Baths complex that stretched to the western corner of Sussex Road, and also contained two swimming pools and men's slipper baths.
The couple's new luxury home will have five bedrooms, three with en-suite bathrooms, as well as a study, library, a gym and a courtyard garden.
Once complete, the house is expected to be one of the most valuable properties in the city and also one of the most spectacular.
A resident of Titian Road, Hove, said: "I have been walking along the seafront in Hove since 1995 and the original building was always a wonderful curiosity.
"But it became an eyesore with lots of rubbish piled up outside and squatters inside.
"I think the plans are absolutely fantastic.
"It will be really nice to have something back in that space that looks good and is in keeping with the original design.
"The bath house was a historic monument as far as Hove goes."