Jimmy Page was always destined to be the frontman of hard rock'n'roll. His sonic compositions have been spot on since he entered the music industry in 1966, kicking off his career with The Yardbirds before founding Led Zeppelin two years later.
Thanks to his rough, guitar-led creations, the British band dawned a new age in music, safely serving as a progenitor for raw, exploding sound.
It was never just about creating chord progressions that made a song sound correct. Page's riffs spiralled all over the place through hellish tones evoking psychedelia, blues and heavy metal all in one track. With the help of Robert Plant's sexually-driven lyrics, John Bonham's booming drum rhythms and John Paul Jones' alluring bass and keyboard melodies, the group served pure artistic freedom in style. Across their 12-year stint, youths were greeted with 92 showstopping songs that screamed of sex and revolution without restraint.
And the songs' transcendent nature still stands today. With Jimmy Page celebrating his 75th birthday, we pay tribute to the musical mastermind and his record-breaking band by taking a trip down memory lane to rank Led Zeppelin's best tracks. Ready for some hard rock? Over to the purveyors of sound.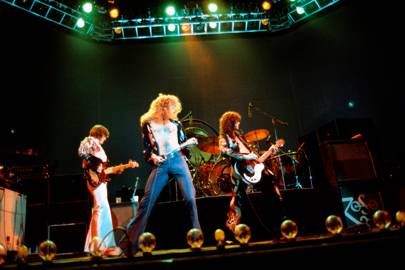 10. 'Misty Mountain Hop' (1971)
Cue the music chant: the hippies have been busted! That's what "Misty Mountain Hop" is all about, according to Plant. Scoring tenth place in our Led Zeppelin rankings, it's all about a "love-in" that's torn apart by the police. Problematic? It fits into the band's constant commentary of societal restraints, sitting strong on their fourth album, and Page wrote this in the middle of the night while the rest of his bandmates were partying. The misty mountains of the title are in Wales and are a reference to Tolkien's The Return Of The King. That shouldn't come as much surprise; we all know how much Plant was into Lord of the Rings. Music and mysticism both at once.
9. 'Fool In The Rain' (1979)

A rather different Led Zeppelin tone is present on this track, as a samba beat serves as the base. Page actually got the production idea from football, feeling an Argentinian spirit when watching the World Cup with Plant in 1978. There's a Latin feel and an optimistic arrangement (for once): prominent piano, polyrhythmic grooves and Blue Box effects pedals for Page. Serving as Led Zeppelin's final US single before formally disbanding in 1980, it makes for a quirky, nostalgic listen. Let's be honest, it's relatable, too. Haven't we all felt like fools in the rain at some point? If your answer is no, quit lying and listen to this tune. Then you'll get it.

Leading lyric: 'I'll run in the rain till I'm breathless, when I'm breathless I'll run till I drop'

8. 'Rock And Roll' (1971)

When you purport to be the greatest rock band of all time, it would be stupid not to write a song that claimed the title. Here, Led Zeppelin does what Led Zeppelin does best: hard-core rock in 12 bar blues. Fun fact: "Rock And Roll" was originally coined by blues musicians as a reference to sex. Once you know that, the swinging feel to this track makes a lot more sense. But frankly, it also just makes you want to dance. It also includes a guest appearance from The Rolling Stones pianist Ian Stewart. With booming drums and intense riffs, the track feels chaotic and rough, making it easy to visualise the band parading on stage like animals. In a word? Dynamic.

Leading lyric: 'Seems so long since we walked in the moonlight, making vows that just can't work right'

7. 'Communication Breakdown' (1969)

Musical breakdowns are more apparent when they follow the repetitive pounding of just one note. Hence, "Communication Breakdown", in which Page used a small amplifier to create what he called a "guitar in a shoebox" effect. It was an intense performance according to Page, who spoke of the tiring effects of playing constant downstrokes, which suits the song's theme – a feeling of frustrated love and youth and a love so intense that verbal expression ceases to exist. Heavy? Erm, quite. Relatable? We'll let you be the judge of that. At just two-and-a-half minutes long, it's a more compact song, but brilliant for its hysteria.

Leading lyric: 'Won't you let me hold you, let me feel your lovin' cha

6. 'Nobody's Fault But Mine' (1969)

Say hello to Plant the preacher, who used "Nobody's Fault But Mine" to accept responsibility for his sins. It was inspired by Blind Willie Johnson – an American blues singer from the Twenties. If it sounds like Robert Plant is distressed while singing, it's likely because he was – the vocals were recorded from a wheelchair as he was recovering from a car accident. The opening is instantly recognisable, with Page's guitar intro overdubbed his three times, making for a striking chorus of hell's angels. Plant was said to scream Page's name every time the solo commenced. An urge of passion? Obviously. This was Led Zeppelin, after all.

Leading lyric: 'Gonna change my ways tonight, nobody's fault but mine'

5. 'Black dog' (1971)

Now this is pure rock'n'roll. Those ambiguous sounds that you hear at the start? That's Page warming up his guitar. There's a bouncing effect between voice and guitar in this track that feels like a constant question-and-answer music session. "Dreams of you all through my head," sings Plant, a concept reflected in Page's stark, animalistic notes. What to do when your relationship becomes tailored towards turmoil? According to Led Zeppelin, write a monster anthem. And ideally scream it with as much force as possible.

Leading lyric: 'With eyes that shine, burnin' red, dreams of you all through my head'

4. 'Heartbreaker' (1969)

Fact: this song was a crowd breaker. Recorded during the band's second tour of North America, "Heartbreaker" played host to one of Page's acclaimed unaccompanied solos. Dark and alluring, both song and melody are regularly voted among the best of all time, and for good reason. It was performed live every single year that the band toured. Another fun fact for you: despite their heavy rock associations, Page would often improvise with little bits of Bach's "Bourrée In E Minor", Zeppelin's musical genius soaring at its highest.

Leading lyric: 'I don't care what the people say, I know where their jive is at'

3. 'Stairway To Heaven' (1971)

OK, we're not denying the sheer brilliance of this song. Not at all. What we'd safely say is the centrepiece of Led Zeppelin's music, "Stairway To Heaven", ranks at a solid No3. It's easy to love this eight-minute track, because its abstract lyrics and ever-increasing accompaniment allow it to sit well with pretty much any listener – even Plant admitted his interpretation of it often changed. If you're feeling like listening to a long, honest and powerful tune, this is Led Zeppelin's offering for you. Page said it captured the band's lasting quality: both poetic and tragic.

Leading lyric: 'There's a lady who's sure, all that glitters is gold, and she's buying a stairway to heaven'

2. 'Whole Lotta Love' (1969)

What's a Led Zeppelin listening session without the band's iconic passion? Cue "Whole Lotta Love", our silver-scoring track from the band's second studio album. Never has a name felt so apt – its repetitive statements and tense transitions make the five-minute track feel more like infinity. From Page's alluring guitar riffs to Plant's seductive voice, the song's blistering drive earns it top points. In the song's acclaimed instrumental, a kind of spacey, psychedelic pulse moves in and out before a booming guitar melody strikes. Page was clearly let loose in the studio when producing this one and with good reason. Listen to its lyrics for proof – song and sex have never been more synonymous.

Leading lyric: 'Shake for me girl, I wanna be your backdoor man'

1. 'Immigrant Song' (1970)

John Bonham drumroll… our No1 spot goes to "Immigrant Song". With its placement as the first track on their third album, it achieved exactly what Led Zeppelin strove to do throughout their career: set a chaotic storm way ahead of the calm. Despite the rest of III remaining somewhat acoustic-led, this recording feels like a sensory explosion right from its first guitar riff. With those screaming, melodic "ahh"s come an outcry of violence and passion. Led Zeppelin have long been classified as one of the greatest rock bands of all time and as far as we're concerned, that's largely down to this recording. Norse references, war horns, and that rolling sense of urgency, which still sounds in your ears upon its abrupt finish.