L

iam Gallagher will perform a live-streamed gig while sailing down the Thames next month.

The rocker released the trailer for the live stream concert on December 5th. No, no one will be arrested, as they did when the Sex Pistols sang on a barge in 1977

Liam Gallagher will be joined by a full band as he floats down the river, taking in some of London's most famous landmarks along the way.

The gig, known officially as Down By The River Thames, will be streamed around the world from 8pm UK time on Saturday December 5.

Gallagher confirmed on Twitter that he'd be playing tracks from his two solo albums, as well as "some stone cold Oasis classics, some of which you haven't heard me sing for a long, long time".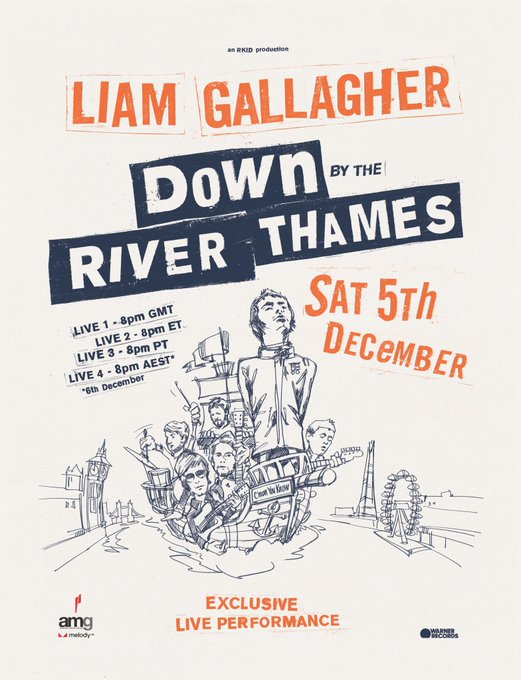 The former Oasis frontman released his latest record 'Why Me? Why Not.' in September 2019, following on from his 2017 debut, 'As You Were'.Earlier this year, Gallagher confirmed that his third studio effort would be arriving in 2021 – but promised to release "a little tune this year to cheer youse up", referencing the ongoing hardship brought on by the coronavirus.
Taking to Twitter this morning (November 5), LG signalled that the first track could be arriving very soon. "Brothers n sisters keep your eyes pealed [sic]and your ears open," he wrote, "I have a celestial announcement to make on Monday c'mon you know LG x"
Recently Liam's unplugged was recorded in Hull City Hall, MTV Unplugged has generated the most physical sales — CD and vinyl – and is the most downloaded release in the first half of the week, according to the OCC.
The album was due to be released April 24 but was delayed when the vinyl manufacturing plant pressing the LP was temporarily closed during the health crisis.
Scoring massive combined sales of 103,000 (91% of which were physical purchases and digital downloads), Liam lands at the top spot with ease, outselling the rest of the Top 10 combined.
As You Were was both the best-selling and most streamed album of the week, and is the third fastest-selling of 2017 behind Ed Sheeran's ÷ and Rag'n'Bone Man's Human.
The album also posts impressive sales on vinyl, with 16,000 copies sold, giving Liam the biggest one-week vinyl sale in over 20 years, topping the Official Vinyl Albums Chart and Official Record Store Chart in the process.
In a video message, with his Number 1 Award in hand from the Official Charts Company, Liam tells OfficialCharts.com: "I wanna thank everyone who bought it. I'd like to thank everyone who helped make it. As You Were."
Including his career with Oasis, As You Were is Liam's ninth Number 1 in total, joining other artists with nine Number 1s records such as ABBA, Queen, Gary Barlow (Take That and solo) and George Michael (Wham! and solo). Speaking of Oasis, their greatest hits Time Flies vaults 17 slots to Number 15 this week.
The performance of Liam's debut solo record this week nearly doubles the opening week total of Oasis' own debut, Definitely Maybe, which tallied 56,000 back in its release week in 1994. As You Were is officially the ninth-fastest selling debut of the decade, ahead of Ed Sheeran and Sam Smith's debut LPs. Click here to view the full Top 10.
Elsewhere in the Top 5, Giggs equals his Official Chart best with new mixtape Wamp 2 Dem at Number 2, Ed Sheeran rebounds a place with ÷ at 3, The Killers climb three to Number 4 with Wonderful Wonderful, and Foo Fighters rebound a place to Number 5 with Concrete and Gold.
New entries and high climbers
A further five new entries impact this week's Top 10, the next highest coming from a-ha. Their seventh UK Top 10 album, acoustic collection MTV Unplugged: Summer Solstice lands at Number 6. Marilyn Manson's Heaven Upside Down becomes his first Top 10 album in 10 years at Number 7, just ahead of The Darkness' fifth studio record Pinewood Smile at 8.
Two debut albums also appear in this week's Top 10. JP Cooper's Raised Under Grey Skies opens at Number 9, and Jason Manford's debut collection A Different Stage is new at 10.