Metallica Fans Outraged as 'S&M 2' Presale Tickets Are Grabbed By Bots & Resold for Upwards of $1,000
Going as high as $16,000+.

'We're Working to Make This Right'
"We've learned from our missteps with this particular ticket on sale," the band wrote.
Metal Insider reports that Metallica fans have taken on to Twitter to express their outrage after the presale for the band's upcoming "S&M2" show with the San Francisco Symphony ended within seconds due to bots grabbing all tickets.
Following the fan outrage caused by ticket-bots grabbing all tickets for the upcoming "S&M 2" show within seconds, Metallica has announced a second concert with the San Francisco Symphony.
The group's announcement reads:
"Wow… that's all we have to say! The response from the 'Tallica fan universe to the announcement of our show with the San Francisco Symphony blew us away, in fact, it was completely and totally overwhelming – thank you!

"However, we also understand that for a great number of you, it brought frustration and disappointment as the supply of tickets fell way short of demand.

"We've heard you and we've learned from our missteps with this particular ticket on sale. We're working to make this right as we are excited to announce that a second show has been added at the Chase Center in San Francisco on Sunday, September 8th.

"First order of business: No public on sale this time! Tickets for the second 'S&M²' show will be available exclusively to Fifth Members.

"We're thrilled to continue the celebration of this world-class arena's opening, to share the spotlight with the Golden State Warriors, the SF Symphony, Michael Tilson Thomas, the Chase Center and what this event represents to the city and the people of San Francisco.

"The second show gives us a chance to celebrate in a unique and very special way with all of you, the die-hard Fifth Members. We're all huddled at Metallica HQ now working out a plan to give every one of you the most fair and equal chance at obtaining tickets (and to do everything possible to keep the bots from getting any).

"Under the full disclosure umbrella, due to contractual obligations with the Chase Center there will be a small number of tickets available to Golden State Warriors season ticket holders, but the rest of the house will be all of you and only you… just the Metallica Fan Club family.

"This is going to take a little time to get as close to foolproof as we can get it, so please sit tight for a few more days and we'll be back with more details.
According to the announcement, members of Metallica Legacy and Fifth Member club were given the opportunity to buy tickets a few days early; however, the source adds that "tickets became on sale instantly at StubHub before fans had a chance to view their pre-sale opportunity."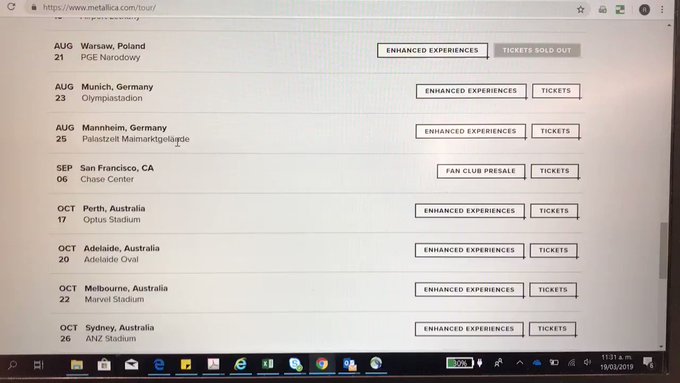 The report further reads:
"Fans have reported signing in at exactly 9 AM PST and 10 AM PST as their select purchase read 'unavailable.' People have tried every single option that they could for the entire half hour, still failing to obtain a single ticket."
The tickets are now available via resellers over on StubHub starting at around $300 and going as high as $16,000 for a single ticket.
Billed as S&M², the one-off concert on Friday 6th September will also celebrate the grand opening of the Chase Center venue in the Mission Bay area of Metallica's native San Francisco. (Source Pleanetrock)
Alongside hosting concerts, the 18,000 capacity multipurpose arena will be the new home venue for National Basketball Association team Golden State Warriors.
Announcing the special show, Metallica said on their official website: "Check this out, you know how much we love firsts and we are always extremely proud to wave the flag for our hometown of San Francisco, so this first is particularly exciting as we announce that we will be performing at the grand opening celebration of the Chase Center with S&M² on Friday, September 6th. That's right, not only will this be the inaugural event at the new arena in the city, but we will be playing once again with the San Francisco Symphony Orchestra as we join together to commemorate this historic addition to the Bay Area and mark the 20th anniversary of the S&M concerts and album release.
"We're honored that legendary conductor Michael Tilson Thomas will kick off his final season as San Francisco Symphony Musical Director with a special appearance conducting a portion of the show. James and Lars joined Michael, along with representatives from the Golden State Warriors and San Francisco mayor London Breed, to make the announcement at the Chase Center today."
Tickets to the concert go on sale to fan club members tomorrow (19th March) before going on general sale on Friday.
Metallica played a rare acoustic benefit concert in San Francisco to raise money for their nonprofit All Within My Hands Foundation.
They played a few hits that translated well to acoustic instruments ("Unforgiven," "Nothing Else Matters"), reworked some classics to fit the format ("Disposable Heroes") and attempted some unusual covers (Blue Öyster Cult's "Veteran of the Psychic Wars" and Nazareth's "Please Don't Judas Me"). In an effort to raise more money for the charity, which recently donated $100,000 to relief efforts for fighting the California wildfires, they're releasing the concert as an album.
Metallica play two massive stadium shows at Manchester Etihad Stadium on Tuesday 18th and London Twickenham Stadium on Thursday 20th June