Queen, Whitesnake and Slipknot have postponed next June 2021 shows due to growing coronavirus concerns.

Queen have been forced to reschedule a May (20) concert at the AccorHotels Arena in Paris, France, following a government decree to cancel all indoor events over 5,000 capacity until 31 May in an effort to contain the spread of COVID-19, while Whitesnake and Slipknot have pulled entire tours to protect bandmates and crew.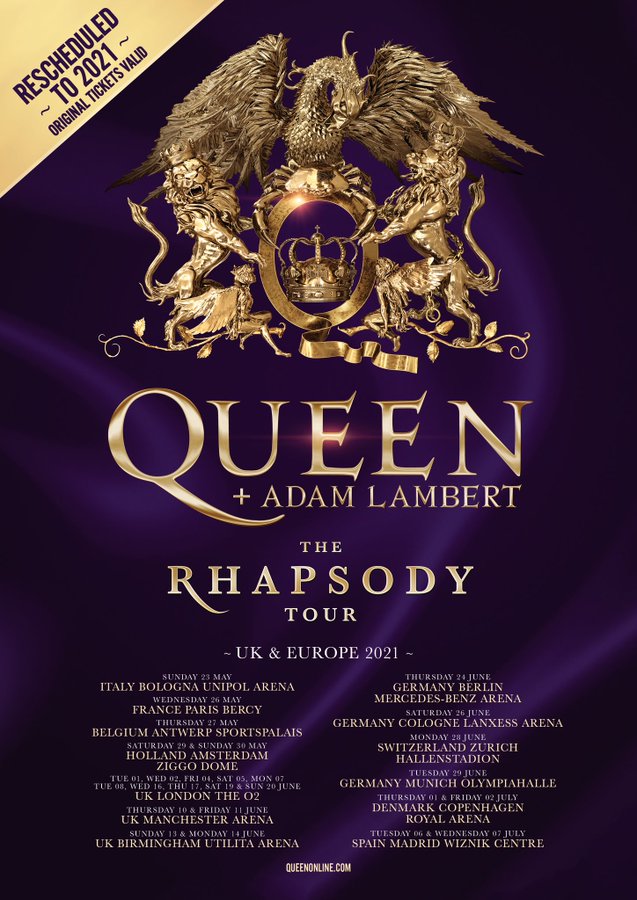 Brian May, Roger Taylor and the vocalist were due to kick off the run on May 24 at the Unipol Arena in Bologna, Italy and head to the UK in June for multiple arena shows in Manchester, Birmingham and London. However, the concerts have been postponed due to the coronavirus pandemic.
Queen and Adam Lambert Upcoming Tour Dates are as follows
Tue June 01 2021 – LONDON O2 Arena
Wed June 02 2021 – LONDON O2 Arena
Fri June 04 2021 – LONDON O2 Arena
Sat June 05 2021 – LONDON O2 Arena
Mon June 07 2021 – LONDON O2 Arena
Tue June 08 2021 – LONDON O2 Arena
Thu June 10 2021 – MANCHESTER Arena
Fri June 11 2021 – MANCHESTER Arena
Mon June 14 2021 – BIRMINGHAM Arena Birmingham
Tue June 15 2021 – BIRMINGHAM Arena Birmingham
Wed June 16 2021 – LONDON O2 Arena
Thu June 17 2021 – LONDON O2 Arena
Sat June 19 2021 – LONDON O2 Arena
Sun June 20 2021 – LONDON O2 Arena
Sun May 23 2021 – BOLOGNA Unipol Arena (Italy)
Wed May 26 2021 – PARIS AccorHotels Arena (France)
Thu May 27 2021 – ANTWERP Sportspalais (Belgium)
Sat May 29 2021 – AMSTERDAM Ziggo Dome (Netherlands)
Sun May 30 2021 – AMSTERDAM Ziggo Dome (Netherlands)
Thu June 24 2021 – BERLIN Mercedes Benz Arena (Germany)
Sat June 26 2021 – COLOGNE Lanxess Arena (Germany)
Mon June 28 2021 – ZURICH Hallenstadion (Switzerland)
Tue June 29 2021 – MUNICH Olympiahalle (Germany)
Thu July 01 2021 – COPENHAGEN Royal Arena (Denmark)
Fri July 02 2021 – COPENHAGEN Royal Arena (Denmark)
Tue July 06 2021 – MADRID Wizink Centre (Spain)
Wed July 07 2021 – MADRID Wizink Centre (Spain)
https://youtu.be/8FDXpUAQzvg