Gibson announces Orianthi, Tom Petty, Slash and Noel Gallagher signature acoustics alongside new Modern and Historic models

NAMM 2021 isn't taking place in the physical realm this year, but you'll find all the hottest January gear launches in our guide to the biggest guitar, amp and pedal releases of 2021 so far. To read the full article click on GuitarWorld link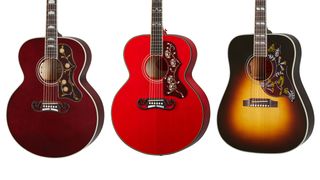 Gibson has announced of whole host of signature acoustic guitars – including models for Orianthi, Slash, Tom Petty and Noel Gallagher – alongside a number of new Historic and Modern offerings to existing ranges.
While details on the ground are scarce, here is what we know about the 2021 Gibson acoustic range.
Taking cue from what Gibson calls the "King of the Flat-Tops", the former Alice Cooper and Michael Jackson guitarist's new signature is based on a standard SJ-200 model, which boasts a Super Jumbo body shape and captures the quintessential classy vibe that the original donned.
This isn't the first time we've set eyes on Orianthi's acoustic, having received a sneak peek at the striking red SJ-200 last year.
Gibson has also teased the arrival of a number of other signature acoustics, and while specs and accompanying pictures are yet to be released, the model names have been announced, and so we can hope to see a Tom Petty SJ-200 Wildflower, the Noel Gallagher J-150 and Slash Collection J-45 in action very soon.