Following the opening of their world-first flagship store in London's Soho, 'RS No. 9 Carnaby', the Rolling Stones have launched a brand-new, global ​e-commerce shop​ equipped with a ​360​° virtual experience​ so customers can shop inside the store from anywhere in the world.

The immersive 360​°​ website shines a light on the artistic history of the physical store location on Carnaby Street and shares insider anecdotes about the architecture and design features. Created in partnership with the Rolling Stones and Bravado, Universal Music Group's merchandise and brand management company, the new online store specialises in fashion and accessories. These exclusive products are only available at RS No. 9 Carnaby online or in store.
For Black Friday, 'RS No. 9 Carnaby' is offering UK customers a rare opportunity to get 20% off purchases over £50 (some exclusions will apply). The offer will be available from 27th November until 1st December and can be redeemed using the code BF20.
The store's windows feature a world-first soundwave installation – taken from the opening to the 1966 hit track 'Paint It Black'. The audio of the beginning of the iconic song is visualised as a soundwave and reinterpreted into a striking red metal sculpture.
The rock icons, who begin a massive UK tour later this month, will launch the Corner Shop installation at Selfridges stores in London, Manchester and Birmingham.
Jointly curated by the Rolling Stones and Bravado, the shop fit follows the brand colours of red and black. The glass floor features many of the bands lyrics, and the fitting rooms are adorned with iconic album artwork; Exile on Main Street (1972) and Some Girls (1978).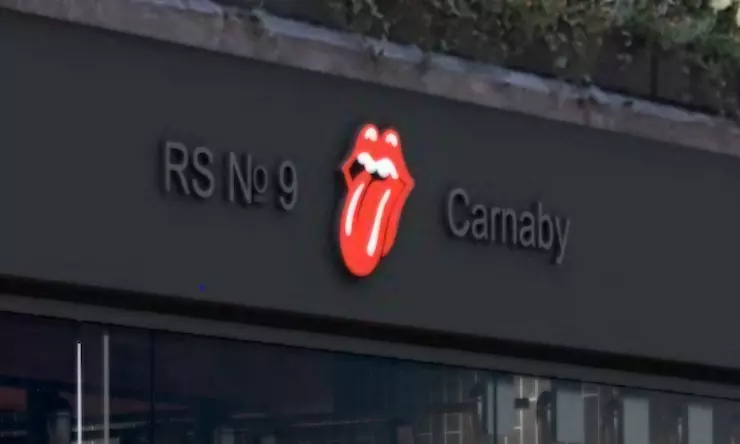 The Rolling Stones said: "Soho has always encapsulated Rock 'n' Roll so Carnaby Street was the perfect spot for our own store. We are confident this exciting project that our friends at Bravado have created will be an unrivalled experience for everyone to come to London and enjoy."
Fans will have the chance to see iconic stage wear including a green oak leaf sequin jacket worn by Mick Jagger at Glastonbury in 2013, and a denim jacket worn on the Steel Wheels US tour in 1989.
Other notable items include an ostrich feather cape designed by the late L'Wren Scott and a matador-style jacket designed by Balenciaga.