Ecco alcuni dei migliori ristoranti di Miami
more info@www.timeout.com
Macchialina Rustic and homey, this off-the-beaten-path Italian is full of locals looking to escape the madness of South Beach. Luckily, they've found a place to do it where the laid-back vibe is totally authentic and the food is damn good, too. Antipasti includes a creamy burrata cheese (locally made) served with pickled aubergine. A small pasta menu ticks all the right flavor notes (the short rib lasagna is a customer favorite). Pizza, too, is dependably delicious and well thought out, with fried eggs, meatballs and mushroom fricassée as toppings.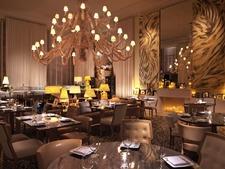 It took the folks who brought us The Broken Shaker at Freehand Miami two years to transform the quaint two-story house on the hostel's property into the coziest space for eclectic home cooking. Open for dinner and weekend brunch, 27's menu has an interesting set of globally inspired dishes made with fresh ingredients from local farms and purveyors, as well as herbs and vegetables from the rooftop garden above the kitchen. Start at the cocktail lounge upstairs where The Shaker's proven bar principles are applied with enthusiasm. Downstairs in the dining room, we recommend The Shakshuka (aka the Israeli breakfast of champions), an enticing blend of North African spices with a mixture of tomatoes, red bell peppers and two fried eggs. Sop up the goodness with chunks of sourdough bread from Zak the Baker in Wynwood. The daily fish with Israeli couscous and avocado slices in a coconut-curry broth is always top-notch. Willing to share? Order the arepa platter for four with house-made Colombian corn cakes, ropa vieja, queso de mano and hogado (sautéed onion, tomato and cilantro). Don't leave without indulging in dessert: The banana pudding is dreamy.
Zuma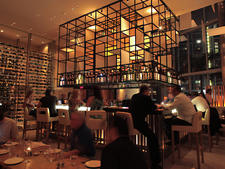 Zuma is a small victory worth working for. The London transplant's acclaimed Japanese izakaya, an increasingly popular style of informal dining, is anything but casual (see: no shorts or beachwear allowed). The riverfront restaurant is filled—day and night—with stunning people who know they're as much a part of the show as the orchestrated action in the spacious open kitchen. Expect a massive selection of modern Japanese bites, from sea bass sashimi with yuzu, salmon roe and truffle oil to tiger prawn tempura. Zuma also has one of the best brunches in town. It's a baikingu (buffet) set-up, meaning you have access to a generous spread of the menu's most talked about items. Short on time during the workday? Opt for the set lunch that aims to serve guests in less than one hour.
The Dutch Miami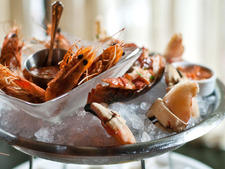 After wowing critics in Manhattan, Andrew Carmellini has duplicated his popular, roots-inspired American eaterie in Miami by way of the W hotel. Paying tribute to the kind of American culinary traditions you'd witness in neighborhood taverns and roadside cafés, the menu runs the gamut from chicken wings with pickled ramps to crisp lamb belly with couscous and tomato. The vibe is as laidback as the vintage, beach-house decor.
Federal Drink & Provisions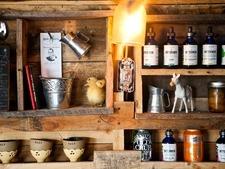 Go on, play with your food. The folks at the Federal won't mind. Experimentation is encouraged at this bustling gastropub, located in a not-so-bustling strip mall on the upper part of Biscayne Boulevard. Co-owners Cesar Zapata and Aniece Meinhold treat this gem as if it were their very own nightly dinner party, and in a way it is. Which is why you'll see the same faces here several nights a week, chowing down on newfangled editions of classic American dishes. Starters include a Jar-o-Duck (a Mason jar full of duck, layered with charred fluff and candied sweet potato) and buffalo-style pig wings. Popular mains include the daily-changing Not Your Granny's Pot Pie, and a lamb burger served with grilled pickled onions on a pretzel bun.
Garcia's Seafood Grille & Fish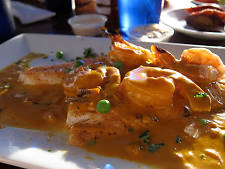 Down by the river, tucked behind a maze of downtown freeways and bridges, this seafood shack is a hidden gem. From the nautical interior and rustic waterfront deck to the fishing boats that chug by, this place oozes character. Conch fritters, gorgeous ceviche and Florida stone crab are warm-ups for the entrées: juicy grilled jumbo shrimp, say, or grilled yellowtail, grouper or lobster, served alongside buttery parsley potatoes, green plantains, Caesar salads or fries. The Key lime pie is one of the best in town. Tricky to find, but worth the effort.
Joe's Stone Crab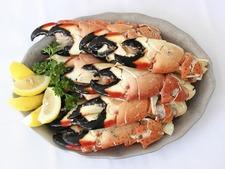 South Florida's most famous restaurant, Joe's (which turned 100 in 2013) is as much a Miami must-see as Ocean Drive. It attracts locals, tourists and celebs, serving seasonal stone crabs (October–May) with a "secret" sauce, garlic creamed spinach, fried sweet potatoes, coleslaw and hash browns. If you don't like seafood, try the fried chicken, or the liver and onions. Joe's doesn't take reservations, so be prepared for a horrendously long wait, first to register your name, then for a table. Alternatively, if you can't face that, just go with takeaway from the adjacent shop.
Mignonette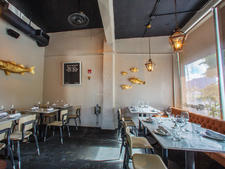 Hit up the Edgewater neighborhood's casual yet classy haunt, located across from a historic Miami cemetery. An old-school marquee hanging above the kitchen maps out your next adventure in oysters. There are usually about eight options, and it's okay to ask for help when making a selection (if you're not familiar with the flavor profile of bivalves from British Columbia, for instance). The vibe here is not pretentious. Classic seafood preparations, prime rib, hearty lobster rolls, soups and an extensive list of veggie sides round out the menu. We recommend taking a close look at the wine list before ordering the same old Chardonnay. It's divided into several sections that recommend varietals by style (tart+fruity), food order (for crudo) and more.
Yardbird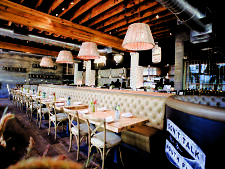 Flashy though it may be, Miami is still a part of the American South: the region that spawned fried chicken, fried green tomatoes, pretty much fried anything. One need only venture a few steps off Lincoln Road to try these comfort food staples, all of them made from scratch and most of it sourced locally. The buzz surrounding Yardbird has been deafening since its birth in 2011 (plans to expand the concept to New York City and Las Vegas are currently in the works). At the center of this publicity maelstrom? Yardbird's now-famous fried chicken—a recipe that takes 27 hours to prepare and can be ordered up as a slider (Mama's Chicken Biscuits) or on a plate (Llewellyn's Fine Fried Chicken). Wash it down with a whiskey-based house cocktail (Blackberry Lemonade—made with lemon juice, organic blackberries, cardamom and sparkling wine—is a customer favorite).