Some are now shops, some are churches – but each had a role in musical history. Photographer Paul Talling has documented the story of 150 of them
Some of the venues that helped launch musical careers from Status Quo to the Sex Pistols are now far from the spotlight, languishing in corners of London as laundrettes, fried chicken joints and even police stations. (Excerpt from The Guardian, to read the full article click here.)
Paul Talling's new photographic essay includes dozens of pubs and bars where the likes of Ritchie Blackmore's Deep Purple and Siouxsie and the Banshees first tuned up their guitars.
It took him three years of tramping across the city to rediscover, research and shoot all of the old venues, many of which were in danger of being erased from rock'n'roll history.
"It's not all doom and gloom," he said. "Some of the old places are still going strong, like the Half Moon in Putney or the 100 Club in Oxford Street, with new bands as well as old ones playing there. But it was vital to capture the places where some of the biggest and even smallest acts from the postwar era onwards first took to the stage or had some of their most famous moments."
Debbie Harry as Blondie, One of the most interesting things about the original punk scenes in both London and New York w
as how many new genres and styles emerged after the initial burst of momentum was over. In retrospect in some ways the sharp, crafted pop of New Wave was one of the most unexpected. Blondie's 1978 album Parallel Lines became a blueprint for one of punk's most commercially successful offshoots.  
Roxy Club, Johnny Rotten and Mark Perry and punks. If there was an epicentre to the London punk scene it was the Roxy club in Covent Garden – hosting early shows by The Clash, The
Damned and The Jam it was where all the growing world of punk met from bands, fanzine writers and fans. It was all happening so fast that any shots of the Roxy audience always feature people who really don't look punk at all – such as the man with the beard sitting to the left.
The Roxy, 41-43 Neal Street, Covent Garden
(left) Rayners Hotel, 23 Village Way, Rayners Lane, Harrow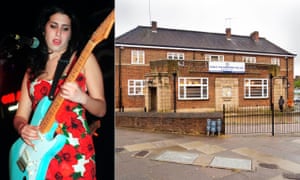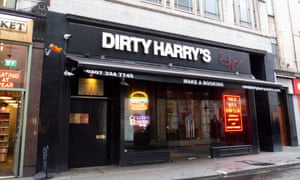 (right) The Vortex, 203 Wardour Street, Soho
Another punk club that sprung up like the Roxy in 1977, the Vortex is even mentioned in the lyrics of 'A' Bomb in Wardour Street by the Jam.
In that song, Paul Weller et al recalled violent clashes between the venue's regulars, the staff and a gang of neo-Nazi skinheads.