Best tiki bars in America
by Time Out USA
more info @ http://www.timeout.com/newyork/bars/best-tiki-bars-in-america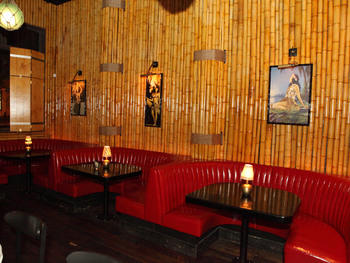 Adrift, Denver
The escapist urges are strong at ADRIFT , both inside (glossy bamboo walls, plush booths, hanging lanterns) and out (the cozy back patio, complete with thatched tables, awnings and a roaring fire pit). The drinks, of course, match the escape-friendly vibe; bartenders can whip up a house-special Paradise Cooler (rum, Cherry Heering, falernum, orange, lime) just as easily as a classic Singapore Sling or a zombie.
Photograph: Courtesy Creative Commons/Flickr/Steven A. Miller
Beachbum Berry's Latitude 29, New Orleans
No one has been as influential in the modern tiki revival as Jeff "Beachbum" Berry, a writer and tiki expert who tracked down lost recipes from Trader Vic's and Don the Beachcomber—recipes that comprise many of the tiki drinks we know today. So when he opened Beachbum Berry's Latitude 29 in New Orleans in 2014, it was a huge deal. Berry serves classics like a velvety piña colada, a dizzying rum barrel and an iced buttered rum, as well as modern creations. It's a serious cocktail menu packed with hits—though we'd expect nothing less from the Bum.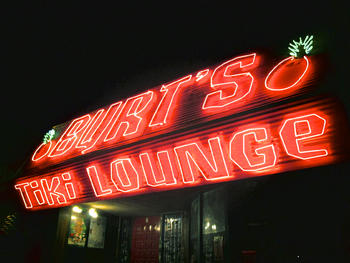 Burt's Tiki Lounge, Albuquerque
"We love to cater to the strange and unique," says Israel Berube of Burt's, a liquor-soaked tiki oasis in the desert town of Albuquerque. This means that unapologetically strong drinks like the Flaming Volcano (vodka, rum, gin, triple sec, multiple juices, fruit garnishes and a burning crown of Bacardi 151 in the middle for good measure) are complemented by a full slate of performances from local artists, ranging from hip-hop to punk. The space, decorated with a hodge-podge of island imagery and dry-docked sea-faring vessels, is a little grittier than your average neon-hued tiki hideaway—just the way the Burqueños like it.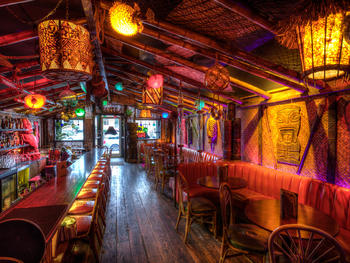 Hale Pele; Portland, OR
For owner Blair Reynolds, knowing the stories behind his favorite tiki drinks helps them go down that much better. That's why the menu at his cheery PDX rum haven is annotated with boozy history—cocktails are tracked by bar and often year of origin. Drinking at HALE PALE, however, isn't a purely academic pursuit; the menu, featuring more than 40 options, is designed with Polynesian fun in mind. Couples can dip into sizeable shared drinks, like the Boo Loo, a dark rum concoction served in a hollowed-out pineapple; if you want ultimate insider status, become a "Fire Drinker" by sampling at least 50 of the 300-plus rums lining the shelves behind the bar. The perks: a medal, your name on the menu and, undoubtedly, a solid buzz.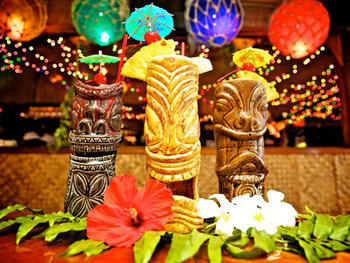 La Mariana Sailing Club; Oahu, HI
Though you have to be a member to access the lagoon marina, LA MARIANNA's historic restaurant and tiki bar has always been wide open to the public. Founded on Oahu in 1957, it's a broken-in paean to the "Old Hawaii" era and its tiki predecessors, featuring traditional live music and decorative elements inherited from bars of yore. In keeping with the theme, the drink selection is crisp and classic, too—mai tais and zombies are among the fresh-mixed house specialties.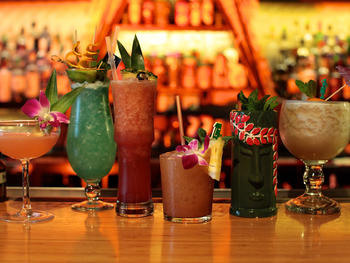 Lei Low, Houston
The owners of this Lone-Star-state tiki joint, Russell and Elizabeth Thoede, believe the more they can make in-house, the better. In the warm, inviting strip-mall space, complete with thatched walls and stoic tiki totems, practically everything is made from scratch, from the allspice dram and falernum to the coconut- and guava-infused rums. LEI LOW even features two tropical cocktails on draft—a mai tai, pulled with nitrogen to produce a creamy consistency, and the Jerry Rig, the bar's take on the classic dark and stormy.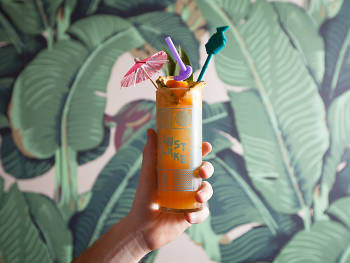 Lost Lake, Chicago
The tiki revival continues with LOST LAKE, a new spot from Paul McGee  that opened in January 2015. The core components of the tiki style are here—drinks that double as flower arrangements, lush tropical decor, Hawaiian-print-clad bartenders and Americanized Chinese snacks—but the drinks are more challenging (and interesting) than you find at most tiki bars. Hula Hips of Heaven has a double dose of agave, with smoky mescal and tequila providing a strong base for citrus fruits and spices, while the Scotch-based Cocoanut Grove Cooler has a punch of peat smoothed out with pineapple and lemon, plus Batavia Arrack, rum's Indonesian predecessor. Thank heaven for Thank You, the adjacent take-out spot, because you'll need the salty, greasy snacks like egg rolls and chicken wings to keep you standing upright.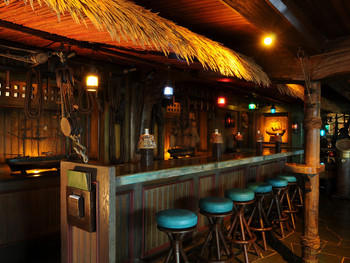 Mai-Kai, Fort Lauderdale
One of the last bastions from the roaring heyday of American tiki kitsch, the MAI-KAI shows no signs of slowing after nearly 60 years in the Polynesian party business. As famous for its sarong-clad servers and impeccably campy atmosphere as it is for its pu pu platters and potent punches, the place has kept the bamboo torch burning for decades by sticking to what it does best. But the real reason it's been packing in the crowds for so long may be the popular Polynesian Islander Revue, featuring a talented troupe of singers, musicians and daring fire dancers.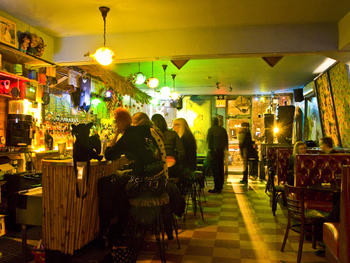 Otto's Shrunken Head, NYC
The decor is as subtle as the name, but if you're a tiki enthusiast, you and your grass skirt will fit right in at OTTO'S SHRUNKEN HEAD. The light fixtures are glowing candy-colored blowfish, the walls sport gaudy '50s tropical prints, and the drink menu is heavy on beach-bar standards like piña coladas and margaritas. Once surf rock gets going in the back lounge, the place becomes more Cali than Bali.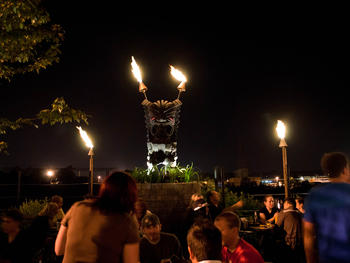 Psycho Suzi's Motor Lounge, Minneapolis
A cavernous rum-runner's heaven right on the banks of the Mississippi River (and yes, it's accessible by boat), PSYCHO SUZI' S proudly trumpets its own odd brand of Midwestern tiki charm. This bar actually features multiple concepts under one roof, including the casual, party-hardy Shrunken Head, focusing on craft beer and tropical tipples in equal measure; Forbidden Cove, a more grown-up sit-down area with high-backed rattan chairs and elegant waterfront views; and Ports of Pleasure, with its zany nautical theme and sharing-friendly drinks in triple-tier glasses. This way, you can embark on an island-style bar crawl without ever leaving the building.
Photograph: Courtesy Creative Commons/Flickr/Matthew Traucht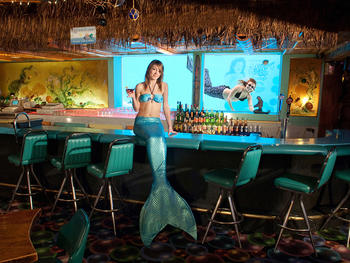 Sip 'n Dip Lounge; Great Falls, MT
Great tiki drinks in Great Falls, Montana? Unlikely as it might sound, they're the specialty of the SIP,n DIP the one-of-a-kind establishment about an hour northwest of state capital Helena. Located inside the O'Haire Motor Inn, the bar is a sun-kissed escape from Big Sky Country, pouring stiff libations, like a monstrous ten-shot mix of liquors and juices served in a 64-ounce fishbowl. And that's not even the top aquatic attraction: Five nights a week, performers dressed as mermaids swim around in the giant glass tank behind the bar, blowing bubbles and wordlessly interacting with patrons.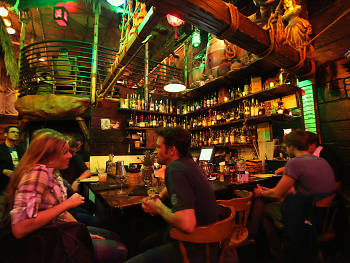 Smuggler's Cove, San Francisco
With an extensive menu of complex cocktails and an interior worthy of a movie set, it's not hard to understand why SMUGGLER's COVE is one of the most lauded tiki bars in the world. Plunge straight into a pirate fantasy as you gaze at the three-story interior bedecked with a ship's bow, large anchors, mermaid carvings and even a waterfall. But the fanciful decor belies a sophisticated cocktail program. The hefty drinks list, contained in a thick binder, showcases traditional Caribbean libations and specialty creations from other famous tiki bars. Alongside the classics are lesser-known delights like the Batida (coconut cream, fresh passion fruit puree and condensed milk blended with the Brazilian sugarcane spirit, cachaça) and the Tradewinds (two types of rum, apricot liqueur and coconut cream).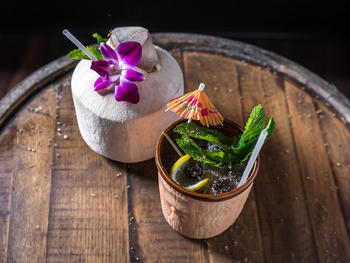 The Yachtsman, Philadelphia
Philly's only true tiki bar,THE YACHTMAN, owned by the people behind bizarro burger joint  and kitschy cocktail nook, brings an island-hopping edge to decidedly nontropical Fishtown. Aloha-shirted bartenders whip up classic drinks—a proper piña colada, the timeless Trader Vic's mai tai and a zombie so strong it could raise the dead—in a moody, loosely nautical space.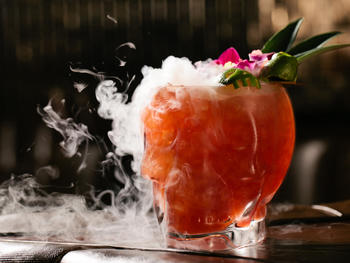 Three Dots and a Dash, Chicago
The lushly decorated tiki bar that jumpstarted Chicago's tiki craze, 3 DOTS AND A DASH opened in 2013. Cocktails are beautifully garnished, with orchids, marigolds and pansies peeking out of skull, coconut and tiki-head glasses, but seriously potent. The classic Jet Pilot contains three types of rum, plus absinthe, citrus and spices, which makes bar snacks—such as the spicy Thai fried chicken—a must-order.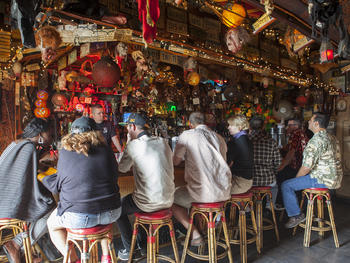 Tiki-Ti, L.A.
Drive past TIKI -TI and you will almost always see a line out the door. Its popularity is a factor, but so is its size: Tiki-Ti is tiny. Once you've gained entry and, hopefully, snagged a seat at the bar, you'll see that there are all the usual suspects—a menu filled with classic tiki drinks and tchotchkes galore. Sure, the cash-only policy can be a pain, but regulars will always return for the strong drinks topped with maraschino cherries. Newcomers come by to experience a Los Angeles institution—and wind up becoming regulars themselves.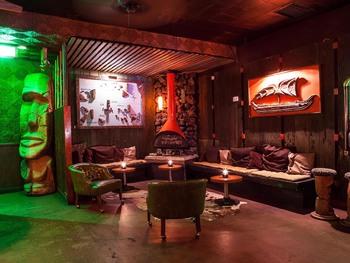 Tonga Hut, L.A.
When you enter the TONGA HUT L.A.'s oldest operating tiki bar, the Drooling Bastard is there to greet you—the tiki mask fountain is the bar's unofficial mascot. Bartenders whip up classic tropical cocktails, like mai tais garnished with large sprigs of mint or the always-popular Flaming Scorpion bowl. Loyal patrons who have tried every cocktail in the Grog Log, a famed tiki compendium that includes more than 80 concoctions, become members of the Loyal Order of the Drooling Bastard. The mere mortals among us can be happy choosing our favorite tunes at the jukebox before settling into the Tonga Hut's cozy booths or chatting up regulars at the bar.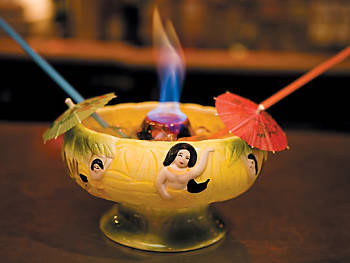 Zombie Hut, NYC
A Flaming Torch shot—rum topped with a lemon slice and sprinkled with sugar, then set ablaze—is strong enough to dispatch the living dead at Smith Street standby ZOMBIE HUT. Bright blue drinks with wee umbrellas and tiki masks hanging on bamboo walls make a fitting setting for Bococa beachcombers sipping bowls of the rum-heavy frozen zombie, which comes with a surprise (a shot) in the straw.