Bob Dylan has given a rare interview in which he discusses his forthcoming album 'Rough & Rowdy Ways', as well as his sharing his thoughts on mortality and the coronavirus pandemic.

Speaking to The New York Times, Dylan was asked whether he sees the coronavirus pandemic in "biblical" terms, and said: "I think it's a forerunner of something else to come. It's an invasion for sure, and it's widespread, but biblical? You mean like some kind of warning sign for people to repent of their wrongdoings? That would imply that the world is in line for some sort of divine punishment."
Extreme arrogance can have some disastrous penalties. Maybe we are on the eve of destruction. There are numerous ways you can think about this virus. I think you just have to let it run its course."
Dylan was also asked whether, at 79 years of age, he is considering his own mortality, replying that he does think about it but "not in a personal way".
"I think about the death of the human race," Dylan said. "The long strange trip of the naked ape. Not to be light on it, but everybody's life is so transient. Every human being, no matter how strong or mighty, is frail when it comes to death."
Sure, there's a lot of reasons to be apprehensive about that. There's definitely a lot more anxiety and nervousness around now than there used to be. But that only applies to people of a certain age like me and you, Doug. We have a tendency to live in the past, but that's only us. Youngsters don't have that tendency. They have no past, so all they know is what they see and hear, and they'll believe anything. In 20 or 30 years from now, they'll be at the forefront. When you see somebody that is 10 years old, he's going to be in control in 20 or 30 years, and he won't have a clue about the world we knew. Young people who are in their teens now have no memory lane to remember. So it's probably best to get into that mind-set as soon as we can, because that's going to be the reality.
As far as technology goes, it makes everybody vulnerable. But young people don't think like that. They could care less. Telecommunications and advanced technology is the world they were born into. Our world is already obsolete.
'Rough & Rowdy Ways', which will be Dylan's first album of original music in eight years, has been preceded with the singles 'Murder Most Foul', which concerns the assassination of President John F. Kennedy, followed by 'I Contain Multitudes' (on which he compares himself to Anne Frank, Indiana Jones and The Rolling Stones) and then 'False Prophet'.
Asked about the people he references on 'I Contain Multitudes', Dylan said: "The names themselves are not solitary. It's the combination of them that adds up to something more than their singular parts.
"To go too much into detail is irrelevant. The song is like a painting, you can't see it all at once if you're standing too close. The individual pieces are just part of a whole."
The 10-track LP features previously released singles "Murder Most Foul," "False Prophet," and "I Contain Multitudes"
Bob Dylan has shared the tracklist for his forthcoming studio album Rough and Rowdy Ways. The 10-track LP arrives June 19 via Columbia, and features previously released singles "Murder Most Foul," "False Prophet," and "I Contain Multitudes." Check out the complete tracklist below, via Dylan's Instagram account.
Rough and Rowdy Ways will mark Dylan's first full-length since his 2017 triple album of standards, Triplicate. His last album of original material was 2012's Tempest.
Rough and Rowdy Ways:
01 I Contain Multitudes
02 False Prophet
03 My Own Version of You
04 I've Made Up My Mind to Give Myself to You
05 Black Rider
06 Goodbye Jimmy Reed
07 Mother of Muses
08 Crossing the Rubicon
09 Key West
10 Murder Most Foul
The follow-up takes its name from a line in the American writer Walt Whitman's poem "Song of Myself".
Lyrics to the new track include: "I'm just like Anne Frank, like Indiana Jones/ And them British bad boys, The Rolling Stones".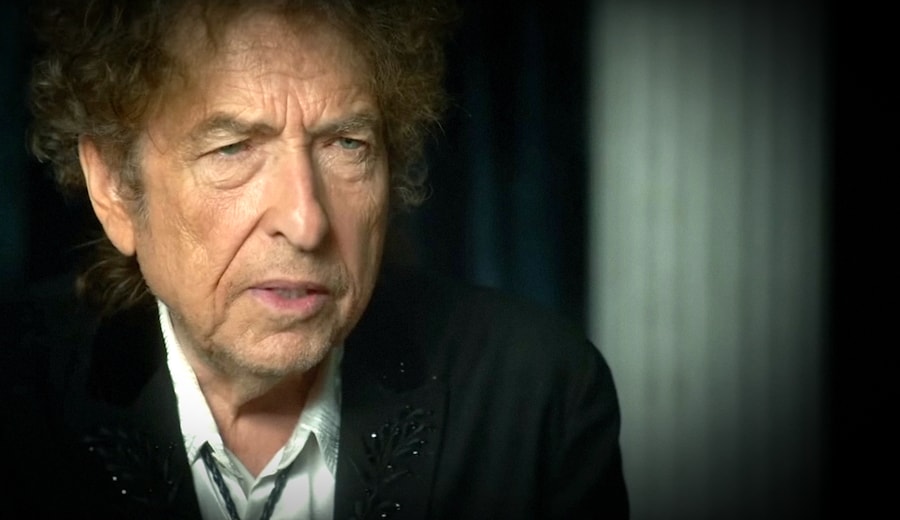 Though "I Contain Multitudes" is only about a fourth of the length of its predecessor, the two singles do have some similarities.
Both share a drumless rolling sound and "Murder Most Foul" also takes inspiration from a poet. The title of that track is borrowed from William Shakespeare's
For the title of his last song, "Murder Most Foul," Bob Dylan borrowed from Shakespeare. For his unexpectedly rapid-fire follow-up, he's cribbing from Walt Whitman. "I Contain Multitudes" takes its name (and the final line of each stanza) from a famous parenthetical thought in Whitman's "Song of Myself." And true to the declaration of personal complexity, the tune itself contains a legion's worth of thoughts and attitudes… although, at a mere four and a half minutes long, not quite as many multitudes as the 17-minute "Murder."
The two songs together represent quite a break in the drought of new material from Dylan, who hadn't released a previously unheard song since 2012's "Tempest" until he put out "Murder Most Foul" in a sneak attack at midnight March 27. Just three weeks later, he's doubled the amount of fresh songs, with "I Contain Multitudes" also getting a midnight ET/9 PT surprise release with no advance warning.
When Dylan first moved to New York he lived with the McKenzie family in Greenwich Village, playing at various small clubs. He did a lot of writing at the apartment, and these working lyrics are accompanied by a letter of provenance for Peter McKenzie who attests that Dylan gave the lyrics to his mother.
The paper in fair condition with some staining but the writing is clear and legible and the signature is strong.
The page was repaired on the back with tape where the page appears to have been torn in two, down the center. There is a .75 hold in center towards the bottom. In addition to the letter from Peter McKenzie, these handwritten lyrics also come Letter of Authenticity, a letter from forensics expert James Blanco and another letter of authenticity from a Dylan handwriting expert and archivist Clinton Heylin. Also comes with a Gotta Have Rock & Roll™ Certificate of Authenticity.