The Ferrari 599 GTB Fiorano F1 owned by the legendary Eric Clapton is currently up for sale. Recently the 2004 Ferrari 612 Scaglietti V12 once owned by guitar legend Eric Clapton is to be sold by H&H auctioneers
Eric Clapton is renowned for his classic car collection – after his music career of course – and not one but two of his cars have recently made the rounds on Auto Trader.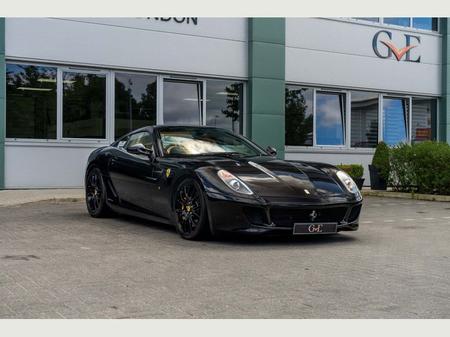 It's well known how much Clapton loves his Ferraris. He's rumoured to have had more than ten Ferraris over the years, with many of them used as inspiration for his songs, and some even gifted to him by friend and fellow musician, The Beatles' George Harrison. He's even made use of Ferrari's secretive One-Off Programme in the past for a reported £3million, so you know he's not messing around!
For £89k, you'd be right to ask for some special features in your Ferrari.
Fortunately, this one comes with plenty of stand-out touches including yellow brake calipers, carbon ceramic brakes and a BOSE HiFi system installed.
Clapton's 599 F1 features a carbon fibre driving zone, contrasting Nero Daytona Black exterior on Castoror Light Brown interior, upholstery leather and an electrochromatic interior mirror. Further features include full electric seats, a leather headliner and leather rear shelf.
Externally, you'll draw plenty of attention with the 20-inch alloys, classic Scuderia Ferrari shields and the roar of that 6l V12 engine.
The 2004 Ferrari 612 Scaglietti remains divisive within Ferrari circles. Some deem it too fat, too heavy and overtly styled with a bland yet awkward stance.
Yet there was an instant knock at the door when Ferrari's 612 was first announced – rock 'n' roll legend Eric Clapton. The aesthetics, inspired by the coachbuilt 1954 Ferrari 375 MM that director Roberto Rossellini had commissioned for his wife – Ingrid Bergman – were enough to see him lay down a deposit and wait patiently for his new car, which was delivered to him from the first batch of 2004 vehicles.
We aren't sure how long Clapton kept the car, but records show the Ferrari had only one further custodian before landing with the current vendor. It's covered a mere 29,000 miles from new.
Eric Clapton net worth is estimated at $250 million. Rock and blues guitarist and songwriter for bands such as Cream and the Yardbirds,
His property assets include his house on Venice Beach in California, his villa in Antigua and his Surrey home Hurtwood Edge Estate. Clapton's yatch, Va Bene, worth £9 million, his music catalogs, tour earnings and his 50% share in the sartorial company Cordings Piccadilly sum up the bulk of his wealth.

Clapton's life as a musician was a racy life full of the thrills of fame and artistic creation, offset with drugs and alcohol. Clapton wrote 'Layla' for Patti Boyd, who was Beatles man George Harrison's wife at the time, and married her in 1979 after years of passionate wooing. They stayed married through his affairs in 1984 with Yvonne Kelly (which produced a daughter in 1985) and 1988 with Lory Del Santo (which gave him his son Conor). The couple divorced that year, but Conor was killed in an accident when he was four which left Clapton shattered. The singer went on to marry Melia McEnery in 2002 and went on to have three children with her – the heirs to Eric Clapton net worth.
Ferrari 365 GTC
© Phil Talbot / Alamy Stock Photo

Clapton might have been content to just look at his Caddy, but it was his first Ferrari that inspired him to drive. In his 2007 autobiography he wrote about a visit from his great friend and fellow car enthusiast George Harrison. "One day in the late 1960s he arrived at my house in a dark-blue Ferrari 365 GTC. I'd never seen one in the flesh before and my heart melted.
Named after the legendary Ferrari founder, the company produced only 400 of these between 2002 and 2004
Ferrari Enzo
© Joanne Melling / Alamy Stock Photo
Ferrari Enzo
© Joanne Melling / Alamy Stock Photo