The guitar is based on the instrument Morello used during his time in Audioslave

The 'Soul Power' guitar is based on the modified Designer Series Strat Morello used during his time in Audioslave,   see an image of the new guitar below.
The 'Soul Power' Strat features an alder slab body with a Deep "C"-shape maple neck. It's also equipped with a recessed Floyd Rose locking tremolo, Seymour Duncan Hot Rails bridge humbucker pickups, two Fender Noiseless pickups in the neck and middle positions, a chrome pickguard and a killswitch toggle — which creates the record-scratching sound effect Morello is renowned for using.
Morello playing on the 'Soul Power' guitar and explaining more about the inspiration behind the instrument
Fender has also come out of the gate strong in 2020, with a massive new range of striking Custom Shop guitars, which includes the Saleen Stratocaster 1 – a souped-up, automobile-inspired six-string electric guitar – amongst a host of others. (guitarworld)
Continuing its trend of artist collaboration, the guitar giant has unveiled two limited-edition made-in-Japan Strat and Tele models, designed with Japanese artists FACE and MHAK, respectively.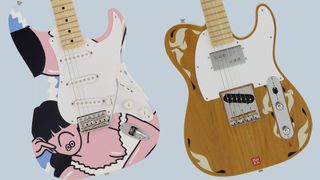 The Strat features an alder body finished with FACE's signature and acclaimed artwork style. The graphic only appears on the top of the guitar; the back is finished in a plain white.
Other than its striking aesthetic, the model features a traditional Stratocaster design and hardware layout, with Vintage-Style single coil pickups and a 21-fret maple fingerboard with a 9.5″ radius.
Painter/artist MHAK – born in Aizuwakamatsu, Japan – is best known for his architectural artwork style. For this guitar, he has drawn inspiration from 1950s furniture, resulting in a look less striking than the FACE Strat, but one that pairs well with the Tele's classic design.
The MHAK Tele features an alder body and a 21-fret maple neck and fingerboard with a single symphonic mark inlay on the twelfth fret. Regarding pickups, the guitar is fitted with a '70s style Wide Range humbucker in the neck and a standard single coil in the bridge position.
Both are listed at £1,050 in the UK (approx $1,350), with US price points yet to be determined.
If you're after additional info, Fender.com has more on both the Stratocaster and Telecaster.