At Kingston's branch of Pryzm on February  the dancefloor was packed for what guitarist Pete Townshend described onstage as an "absolutely ridiculous f*cking concert".
It's great to come back to a small place where you can smell your armpits," chuckles Roger Daltrey, the iconic frontman ever so slightly closer to his audience than you'd imagine he was when he played Wembley Stadium last summer.
The Who marked the 50th anniversary of their landmark concert at Leeds University by playing a special acoustic gig at the tiny Pryzm club in London on Friday evening. The set was similar to the one they played at the hall earlier in the week, but it did contain the first performance of The Who Sell Out's "Tattoo" since 2008. The song was also part of their set at Leeds back in 1970.
Earlier this week the legendary rockers debuted "Break the News" and "She Rocked My World" at PRYZM in London earlier this week. Since it's been years since they've played small club shows, the energy was very relaxed and felt more like they were playing for their friends as opposed to a large stadium gig.Many of tonight's audience aren't your standard Pryzm punters, and they don't seem very impressed by the venue's dripping doorway and sticky floors. But none of that seems to matter when the band steps onstage.
Daltrey and Townshend are both on acoustic guitar only tonight, and joke with each other like two old friends at an open mic night. The only difference is, the anecdotes they're telling are about friends like David Bowie and Bob Dylan.
The set list airs a number of big numbers (Pinball Wizard, Behind Blue Eyes) to go along with new tracks from last December's album Who (Break the News, She Rocked My World). There's even a lesser-aired Tattoo, performed for the first time in 12 years.
Taking the bizarre surroundings out of the equation, it sounds as good as you would hope. Daltrey goes into his lower vocal range more on newer material, but there's no doubting his ability to still belt out the classics when he wants to.
Meanwhile, Townshend's approach to guitar playing is relaxed but never lazy, and he's never more than a couple of minutes away from a few tongue-in-cheek swear words at the audience.
And while they will be going on a UK tour in March followed by a U.S. leg, singer Roger Daltrey proved that he still needed to learn the lyrics to "Break the News," which was written by Pete Townshend's brother, Simon.
"I'm in the first stages of the dreaded late 70s," Daltrey said before they give the song another go. "And the memory ain't what it was. I've never sung this song before live. I might have to read it…Simon is such a great songwriter. For years he's done his songs at my solo shows, but it's great to find a song that actually fits on a Who album. It fits really well. Let's try it."
The Rock & Roll Hall of Fame band will play April 23 at Northern Kentucky University's BB&T Arena, across the Ohio River 7 miles south of the Dec. 3, 1979, concert site, where another two dozen people were injured Dec. 3, 1979, amid confusion and lack of preparation for thousands of fans lined up for hours for first-come seats.
The announcement came after WCPO-TV in Cincinnati aired a Tuesday night documentary featuring interviews with lead singer Roger Daltrey and guitarist Pete Townshend.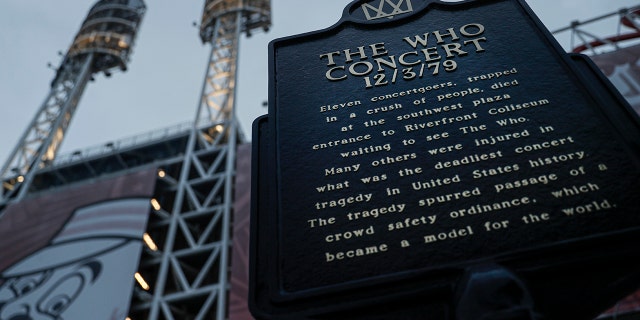 On Dec. 3, 1979, 11 people were killed and another two dozen were injured when a crowd of thousands lined up for first-come, first-serve tickets began to stampede outside what was previously named the Riverfront Coliseum. The two sites are on opposite sides of the Ohio River just seven miles away from each other. The deaths paved the way for the crowd safety ordinance.
Lead singer Roger Daltrey and guitarist Pete Townshend have said they've been haunted by the deadly incident that occurred due to confusion and lack of preparation for thousands of fans lined up for first-come seats.
Both have said they've been haunted by the tragedy. Townshend recently told The Associated Press he was looking forward to discussing it in Cincinnati.
"Now we can have a conversation about it when we go back," Townshend said.
"We will meet people and we'll be there. We'll be there. That's what's important," he said. "I'm so glad that we've got this opportunity to go back."
The band is adding the concert to its Moving On! tour 2020 dates.
The Who said it will donate a portion of proceeds from the Cincinnati area concert to a memorial scholarship fund benefiting students in the Cincinnati suburb of Finneytown. Daltrey visited a Finneytown High School memorial site in 2018 and the band has for years supported the scholarship effort there. Three of the 11 killed, including two 15-year-old girls who were the youngest victims, had attended Finneytown High.