"I had the Strat up until the first album," the Black Sabbath guitarist says. During a conversation with Gibson, Tony Iommi recalling how he managed to continue playing after losing his fingertips in the well-known accident.
"I can't remember the exact time, while the bandages were on, I was trying to learn to play with my two fingers, and it seemed like forever. I went to see various specialists, and they said, 'You might as well pack up, you're never going to be able to play,' which was really depressing. (Source ultimate-guitar.com)
"I wouldn't accept that. I started to make my own tips. It was trial and error, so over a period – it took a while – I was trying different things that I could use and keep them on my fingers, and I made something out of plastic, and it would just slip off.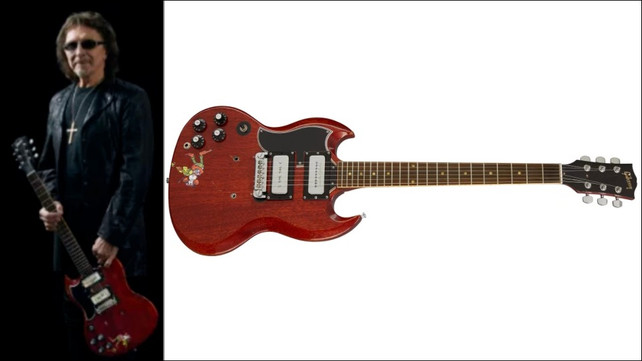 "So I came up with putting materials on, so it would grip the string and wouldn't rip it, and I used leather in the end. I tried different things, and leather worked the best. I still have to change, before a tour, I'd have to change them once a month.
"The firm where I worked, the manager of the firm came around to my house to see how I was, and I was really depressed, and he said, 'I bought you an EP, will you play it?'
"I said, 'Oh, no, I don't want to listen to music now,' the last thing I wanted to do was listen to a guitar player. He said, 'No, put it on, it's interesting.'
"And when I was first introduced and listening to this stuff, Django Reinhardt, I couldn't believe it because I liked bluesy stuff and jazz, but when I heard his gypsy jazz, it was really brilliant, especially having lost the use of two fingers.
"It was just amazing. I could relate to that after me doing the same sort of thing, damaging two fingers, and it really inspired me to get to learn to play more by doing something with my fingers.
"It was like starting from scratch, and worse, especially after being able to play chords, and suddenly I'm faced with not being able to play a full chord because of my fingers.
"And that's I think what made me come up with sort of the Black Sabbath thing, the sound because I was trying to make the sound bigger to fill in for the full chords that I couldn't play anymore."
"In England at that time, for me, it was difficult to get any kind of guitar because, being left-handed, you know, you've just never seen any kind of left-handed guitars of any quality."
"I had the Strat up until the first album [1970's 'Black Sabbath']. When we went to record that, I bought an SG prior to that. I had an SG that was right-handed and I played it upside down – I changed the strings and played it upside down.
"And I heard about another guy in Birmingham who've got a left-handed guitar, and he played it upside down, so I tried to contact him. I don't even remember how I found out about it, somebody obviously told me.
"So I arranged to meet him in a car park in Birmingham, and he brought his guitar, I brought mine, and we ended up swapping. So I had then a left-handed guitar, and in the studio when we've done the first album, but I was using the Strat because I was used to that, and I'd never actually use the SG more than a few minutes.
"We got into doing the first track on Black Sabbath album, 'Wicked World,' and then my guitar started playing up, and suddenly it went off, the pickup had gone wrong. And the producer was going, 'Don't worry, you have the other guitar.'
"We only had it for a day, the studio, to record the album, so I used the Gibson, and ever since then I never looked back. I loved it and played that, that became the guitar that was on all the albums up until 1980.