La Top 21 dei festival musicali mondiali secondo la redazione di TIME OUT
21. Wilderness
Oxfordshire, UK August 6-9 2015
Festival heaven for: City-dwelling Green Party types and introspective Guardian readers.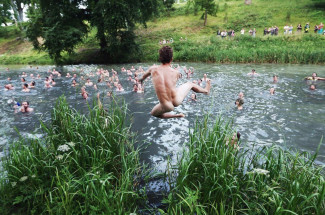 2015 highlights: Ben Howard, Björk, George Clinton and Funkadelic/Parliament, Hercules And Love Affair, Benjamin Clementine…
Wilderness is as much a celebration of the inner life (there are talks and debates, a spa and yoga classes) and good old fashioned back-to-nature activities (horse-riding, wild swimming and foraging) as it is a music festival. Therefore the crowds it attracts isn't your average festival goers on the lookout for cheap thrills. There's more of a family friendly and, dare we say it, middle class vibe to proceedings. So, what about the music? This year, the beautiful lakeside Oxfordshire setting Wilderness calls home will host an excellent line-up including Bjork, Ben Howard and funkmaster George Clinton, performing with his legendary bands Parliament and Funkadelic.
SEE MORE ON WILDERNESS WITH TIME OUT LONDON
20. Reading Festival
Reading, UK August 28-30 2015
Festival heaven for: Kevin the Teenagers.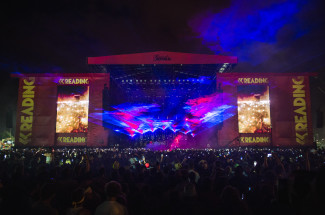 © Marc Sethi
2015 highlights: The Libertines, Metallica, Mumford & Sons, Bring Me The Horizon, Years & Years…
There's wall to wall rock from some of the biggest bands at this good old fashioned festival – one of the UK's most established – which takes place in Reading and Leeds over the August bank holiday weekend. When we say old fashioned, we mean minus some of the luxuries associated with boutique fests, like edible food and pretentious 'art happenings'. So don't expect to be pampered; but do expect plenty of great music and an intoxicating atmosphere (it smells like teen spirit thanks to all the post-GSCE partying). In 2015, the big news is the return of The Libertines and headline sets from Metallica and Mumford and Sons (though how the winsome folkies will fare amongst all the Rawk remains to be seen). For those camping, it can sometimes feel like a giant anthropological experiment in which thousands of off-the-leash teens concoct ever more elaborate ways to get drunk and cause mayhem. So if you're too old to bang oil drums by the fire maybe plump for a day ticket or a comfy hotel room instead.
19. Fun Fun Fun Fest
Austin, USA November 6-8 2015
Festival heaven for: Locals who get the hell out of town during SXSW, the EDM allergic, tattooed home brewers.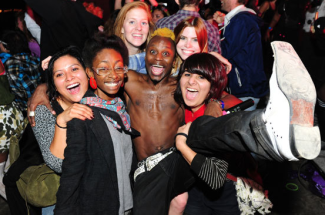 2015 highlights: TBA…
South By Southwest and Austin City Limits suck up all of the attention in the Texas capital – and Austinites would probably like us to carry on overlooking this off-season gem. Fun Fun Fun delivers copious amounts of Shiner Bock beer and decibels to a laid-back audience on the Auditorium Shores, just across the Colorado River from downtown. Punk, metal and a dash of comedy instills a more leather-and-denim atmosphere, where go-hard rappers like Run the Jewels rub shoulders with Judas Priest. The autumn weather in Austin is warm and sweet, and as you watch watch swarms of bats flutter under the bridge while King Diamond plays, rock & roll nirvana is reached.
18. Lollapalooza
Chicago, USA July 31-August 2 2015
Festival heaven for: People born in the 90s, people who deeply miss the 90s.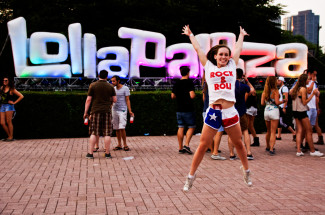 © Michael J. Chen
2015 highlights: Paul McCartney, Metallica, Florence + The Machine, Sam Smith, Alt-J…
Begun by Jane's Addiction frontman and silver pants aficionado Perry Ferrell in 1991, the once roving Lollapalooza puts its roots down in Chicago's Grant Park a decade ago, where it has since remained, scenically flanked by Lake Michigan and the towering downtown skyline. The setting can be stunning, though agoraphobes beware: Lolla continues to skew younger and younger as the crowd has ballooned well into the six figures. There's hardly a place to lay a blanket on this 300-acre beast. No bother, though, as you'll want to keep moving to catch the hundreds of acts across eight stages, from the never-ending rave at Perry's Stage, an EDM festival-within-a-festival in its own right, to the mile-long stretch of local food stalls. There's even Kidzapalooza for budding hipsters. After ten hours in the park, the action disperses to Chicago clubs for dozens of afterparties. If your feet can make it. How it pays to be 18.
17. Golden Plains
Victoria, Australia March 7-9 2015
Festival heaven for: Nostalgic hippies and eccentric indie kids.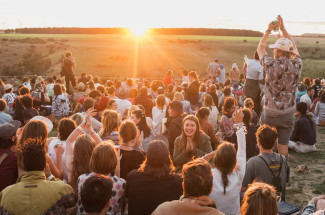 2015 highlights: Conor Oberst, Courtney Barnett, DJ Shadow & Cut Chemist, Felice Brothers, First Aid Kit…
Golden Plains is a beautiful festival throwback: a paean to a time before corporate sponsors came along and slapped their names on anything and everything. In keeping with the no-logo, collective ethos, visitors are encouraged to bring whatever they like to the campsite as long as it doesn't ruin the communal vibe (even armchairs and a couch, according to their website). Over its nine-year history the festival has developed some quirky traditions: most famous of all is The Boot, a salute from the crowd to the best performers at the festival in the form of shoe or boot being held aloft (it beats chucking them at the worst performers, I suppose). Aussie garage rock legends Radio Birdman, DJ Shadow, Parquet Courts, Sharon Van Etten all performed at Golden Plains this spring.
16. Ultra
Seoul, South Korea June 12-13 2015
Festival heaven for: EDM junkies.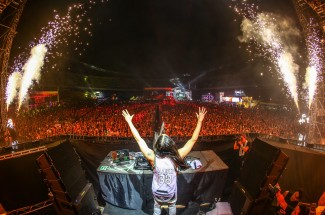 © Rudgr
2015 highlights: Skrillex, David Guetta, Hardwell, Alesso, 2ManyDjs…
Garish, glitter-happy and globe conquering – it pitches up in Argentina, Brazil, Chile, Croatia, the US and South Korea – Ultra is a dance festival juggernaut: a colourful nirvana for EDM junkies and beautiful people getting their bass face on. And according to big hitters like House legend Carl Cox the atmosphere at Ultra in Seoul – where 100,000 'Ultranauts make a yearly pilgrimage to the city's Olympic Stadium Complex – is the best of the lot. In 2015, Ultra has lined up some of the world's biggest DJs – Skrillex, David Guetta, Hardwell and Alesso – and plenty of K-Pop stars for the Seoul leg of the tour. Our tip: headliners go on early in Korea, around 8pm. So arrive early to get a good spot.
15. Splendour in the Grass
Byron Bay, Australia July 24-26 2015
Festival heaven for: Party-starting intellectuals.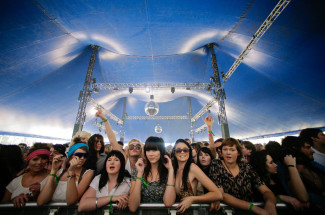 © Daniel Boud
2015 highlights: Blur, Florence + the Machine, Mark Ronson, Tame Impala, Ryan Adams…
After 14 years, Splendour in the Grass is becoming something of an Aussie institution with 30,000 punters regularly making the trip to North Byron Highlands for three days of fine music, art and camping. The site is sprawling: in some cases the stages are 20 minutes apart. Take plenty of water: you'll be walking a lot in the hot sun – so plan your day out carefully. (And if you overhear the locals moaning about how their 'thongs' are rubbing – remember they mean their flip flops). The 2015 line-up contains many a splendid thing: reunited Britpoppers Blur, Florence + the Machine and Mark Ronson headline, with able support from Tame Impala, Royal Blood, Wombats and more. You can also exercise your brain at the Splendour forum: home to talks, comedy shows and much philosophical pondering.
SEE MORE ON SPLENDOUR IN THE GRASS WITH TIME OUT SYDNEY
14. The Garden Festival
Tisno, Croatia July 1-8 2015
Festival heaven for: The beautiful people.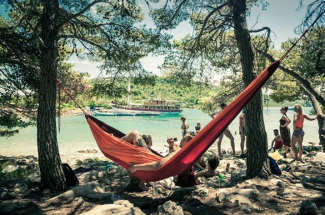 © www.timertl.com
2015 highlights: Ben UFO, Bonobo, Craig Richards, Crazy P, Joy Orbison…
The first Garden Festival, in 2006, woke people up to the potential of Croatia, and specifically the Dalmatian region, as a breathtaking place to party. And, damn, what a party The Garden Festival throws. This year, carousers at The Garden Tisno can look forward to eight nights of DJs and live music – from the likes of Optimo, Nightmares on Wax, Ben UFO and Joy Orbision – across 4 stages, plus 20 boat parties on the shimmering, crystal clear waters of the Adriatic. The bad news is: after 9 years, this is the Garden Festival's last hurrah. The good news is: it's going out with one hell of a bang.
SEE MORE ON THE GARDEN FESTIVAL WITH TIME OUT LONDON
13. Sziget
Budapest, Hungary August 10-17 2015
Festival heaven for: Culture vultures and music magpies.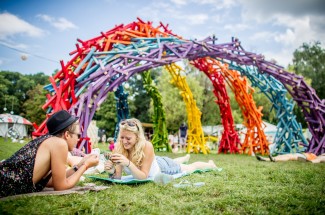 © Sziget.hu / Sándor Csudai
2015 highlights: Robbie Williams, Florence + the Machine, Alt J, Interpol, Tyler the Creator…
A giant of the European festival circuit, Sziget regularly attracts more than 350,000+ revellers to its charming island location in the heart of Budapest. The sheer scale of the festival – fifty venues and 200 daily performances over seven days – is dizzying. Musically, there's everything from big names – this year: Florence and the Machine, Kasabian, Paloma Faith – to smaller acts performing metal, jazz, folk, authentic Roma… (Name a genre, and someone's bound to be playing it somewhere). Culturally, there's theatre, circus and exhibitions. And of course Budapest itself to explore. The only thing missing from the agenda is boredom.
12. FYF Fest
Los Angeles, USA August 22-23 2015
Festival heaven for: Pitchfork readers, vinyl buyers, city explorers, celebrity shunners.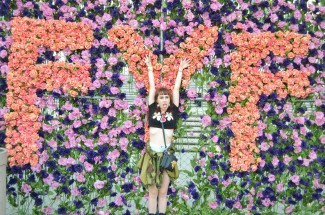 © Kate Wertheimer
2015 highlights: Frank Ocean, Morrissey, D'Angelo, The Jesus & Mary Chain​, Belle & Sebastian…
Because he was bored by big concerts and a teenager, Sean Carlson started his own damn festival in 2004 and dubbed it Fuck Yeah Fest. In the decade since, FYF has blossomed from hip clubs in Echo Park to being a major park-filler. Naturally, it's since been absorbed by Goldenvoice, the folks behind Coachella, but the modest two-day event retains its local vibe and fanboy energy. The location has hopped around downtown parks over the last few years, but never out of sight of those often overlooked Los Angeles skyscrapers. The headliners are as a rule deeply cool, with names like Yeah Yeah Yeahs, Phoenix and My Bloody Valentine. The rest of the bill eschews filler, putting the buzziest names in SoCal punk, underground dance, garage, metal and minimalist electronic in the mix. Don't sleep at this well-balanced underdog. Literally: Get out there and stay in the real LA, not some temporary campground.
11. Bestival
Isle of Wight, UK September 10-13 2015
Festival heaven for: Big kids and little kids.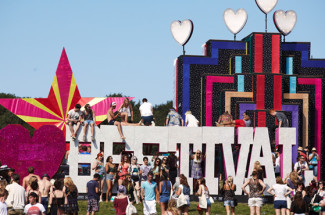 2015 highlights: : The Chemical Brothers, Duran Duran, Tame Impala, Underworld, Little Dragon…
Bestival is four days of fun, sun and music on the Isle of Wight with a stellar reputation for cracking, eclectic musical line-ups. And 2015 is no exception: Big beats from the Chemicals, sleazy rock from Fat White Family, slick House from Todd Terje. As you'd expect from a festival that's drawn comparison to Glasto, there's also plenty of oddball, anarchic stuff happening away from the main stage – everything from a fire-spewing steel spider to an inflatable church. And don't forget to drag the tie-dye out the loft for Saturday's Summer of Love themed dress up day. Dorset-based, award-winning sister festival Camp Bestival (July 30-August 2) ain't too shabby either. Heavy on kid-friendly activities (face painting, bouncy castles, go carts, Dick and Dom – seriously, it has everything), it's the perfect place to introduce your little ones to the festival merry-go-round.
---
The top 10…
---
10. Benicàssim
Benicàssim, Spain July 16-19 2015
Festival heaven for: Insomniacs, beach enthusiasts, people who look attractive (or at least passable) naked, suntan lotion salesmen.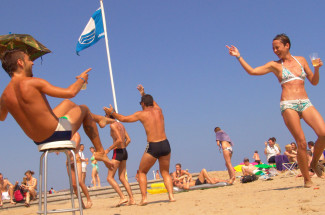 2015 highlights: Blur, Portishead, Godspeed You! Black Emperor, Mark Ronson, Florence + the Machine…
There are a few reasons the Festival Internacional de Benicàssim – just Benicàssim to its mates – is one of Europe's most enduringly popular weekends for artists and music fans alike. There's the pretty town of Benicàssim itself, a 20 minute stumble away from the main site. There's the irresistible Mediterranean beach next to the town, with the sapphire sea just waiting to absorb all hangovers and offer respite from the microwave heat of the day. There's the fact that the music doesn't really get going till the sun goes down, and then doesn't really stop until it comes up again. And – though perhaps not for everyone, this – there's the fact that the young, cosmopolitan crowd are so Iberianly cool that they think nothing of getting naked in the unisex showers and engaging in general chit-chat about this and that while washing their this and thats, not necessarily noticing or caring that they and everyone around them are naked. Oh yes, and there's some music that goes on – which just happens to be one of the most consistently strongest line-ups in all of indiefestivaldom.
9. Lovebox
London, UK July 17-18 2015
Festival heaven for: Dayglo party hounds.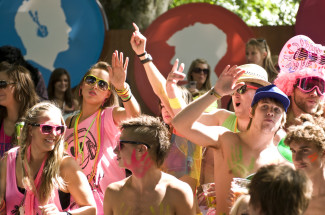 2015 highlights: Snoop Dogg, Rudimental, Hot Chip, Jessie Ware, Little Dragon…
Lovebox is a scream: a brightly colour smorgasbord of live bands and DJs, dance and performance art (including for the first time, a spoken word stage), and all kinds of other weird and wonderful fun (Who can resist a roller disco?). Rocking the big stage this year are the likes of Snoop Dogg, Rudimental and Hot Chip, which should make for a hell of a party. We also recommended checking out the smaller stages – curated by the likes of Radio 1Xtra and Clash and Fact magazines – where you can discover all manner of hidden musical gems. Our tip: Remember to pace yourself, for when the live music stops, the afterparties start.
8. Pentaport Rock Festival
Incheon, South Korea August 7-9 2015
Festival heaven for: Rain-loving indie kids.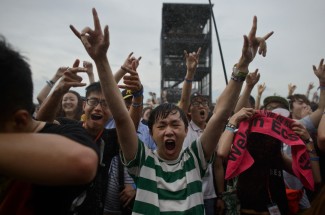 © Ed Jones/AFP/Getty Images
2015 highlights: The Prodigy, The Kooks, 10cm, Seotaji, Mew…
The 'penta' in Pentaport comes from the five main themes of the festival – music, passion, the environment, DIY and friendship (yes, friendship). And this Incheon-based event (the site is around 20 miles outside of Seoul), one of the top live music events in South Korea, delivers on them in abundance. This year dance-rock big guns The Prodigy and chirpy indie types The Kooks are on the bill alongside South Korean rockers 10cm, with more acts to be announced. One thing to be aware of if you make the trip: August is rainy season in South Korea so save the cut offs and sunglasses for Glasto (hopefully).
7. Burning Man
Nevada, USA August 30-September 7 2015
Festival heaven for: Deep Web surfers, steampunks, metal sculptors, crystal healers.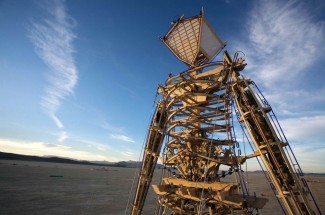 © www.burningman.com / John Curley
2015 highlights: Lasers, drones…
Undoubtedly, some guy sporting goggles and dreadlocks will tell you Burning Man is not what it used to be, man, before he speeds off in his solar buggy, and he's probably right. Once an off-the-grid bacchanal-slash-art-installation akin to a Mad Max film, the desert party has become a Dionysian ritual for Silicon Valley rich looking to shake off the stress of countless 18-hour work days filled with coding, backstabbing and energy drinks. Still, an inimitable post-modern, cyberpunk, druggy spirit hangs about this remote pop-up on the north Nevada playa. The performing DJs are last-minute surprises – techy producers like Deadmau5 and Tyco – but that's just part of the action in a place that has pyrotechnics and its own laser regulations.
6. Governors Ball
New York, USA June 5-7 2015
Festival heaven for: Brooklynites, urbanites, Urban Outfitters employees, tourists, the characters on Girls.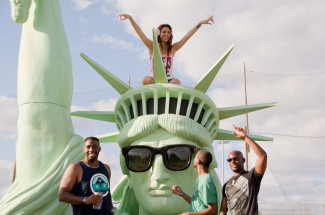 © Michael J. Chen
2015 highlights: Drake, Björk, The Black Keys, Lana Del Rey, Deadmau5…
Though it moved from its more scenic original location on Governors Island, in view of the Statue of Liberty and the downtown skyline, New York City's only major music festival is now more easily accessible on Randall's Island, wedged up the East River between the Bronx, Queens and Manhattan. A ferry is still the best way to get to Governors Ball, but train, bus and walking over the RFK Bridge will deliver you, too. Attendance wise, it's a fraction of the size of American fest like Coachella and Lolla, yet its bookings often trump the big boys. This year, no one else can boast both Björk and, er, Weird Al Yankovic; last year, ditto for the Strokes. While the vibe is never as loose and celebratory as fests with campgrounds, afterward, you can lose yourself in the bustle of the Big Apple. That's some perk.
5. Sónar
Barcelona, Spain June 18-20 2015
Festival heaven for: Ravers with PhDs, Wire magazine readers.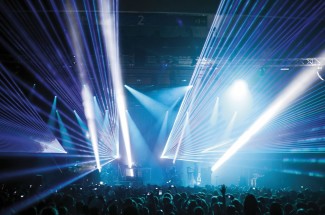 2015 highlights: The Chemical Brothers, Autechre, Hot Chip, Skrillex, FKA Twigs…
(Aka the International Festival of Advanced Music and New Media Art). Sónar's highbrow alternative moniker is a big hint that this is a bit more special than your average dance festival. Now in its 22nd year, this Barcelona-based three-dayer is a huge party and an egghead dissection of electronic music all wrapped in one. There aren't many festivals where you can attend lectures on digital culture in between going off to the Chemical Brothers (they play here for the first time since 1996), but at Sónar it's pretty much par for the course. The festival spreads its tentacles to all corners of the city, putting on art installations and kid-friendly events, but the main draw is always the music. In 2015, more than 150 artists perform, including electronica legends Autechre, FKA Twigs, soundtrack wunderkind Mika Vaino and noise pioneer Russel Haswell.
4. Latitude
Suffolk, UK July 16-19 2015
Festival heaven for: Thirtysomethings reliving their twentysomethings, people still in touch with their friends from university, little Terence and little Annabel.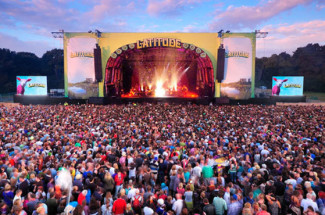 © Tony Whitworth
2015 highlights: Alt-J, Wild Beasts, Portishead, Jon Hopkins, The Boomtown Rats…
Begun in 2006 and championed relentlessly by the UK's Guardian newspaper, Latitude has quickly established itself as Glastonbury's more introverted, genteel little cousin. Set in a lakeside idyll near the sleepy holiday town of Southwold, its instant success has led to a glut of mini-me boutique festivals springing up across the UK in the past ten years. But while many have withered and died in a swamped market, Latitude's family-friendly boho vibe, trademark rainbow-dyed sheep and unchallenged rep as a middle-class paradise have ensured its survival. The enlightened-indie music policy – angled just leftfield enough to see the inauguration of a BBC 6 Music stage in 2013 – shares the limelight each year with an impressive bill of cabaret and comedy acts. Only downside: it's kind of remote transport-wise, almost impossible to get to by any means other than Suffolk cow.
3. Coachella
Indio, USA April 10-12 and 17-19 2015
Festival heaven for: Sun lovers, celebrities, fashion bloggers, those who use the Mayfair filter in Instagram.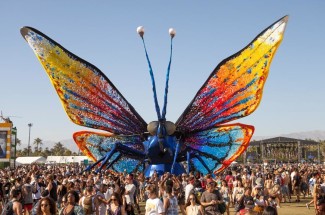 © Jakob N. Layman
2015 highlights: AC/DC, Jack White, Drake, Tame Impala, Steely Dan…
Deeper down the Coachella Valley, beyond the golf resorts and million dollar mid-century modern homes, lies Indio, California's new hub for spring hedonism and schmoozing. Held on polo grounds in the desert, Coachella is a camping destination, unlike most urban American festivals, though the sand-adverse seeking five-star shelter can shack up in nearby Palm Springs. Because it hits so early in the year, the two-weekend Coachella has a leg up on competition like Lollapalooza in terms of booking and buzz. It inherently seems like an industry leader, the first to announce big reunions and nab awaited comebacks, ranging from nostalgic critical bait (Ride) to dinosaurs (AC/DC, Steely Dan). Keep an eye out for daytime pool parties, and stock up on hats, water and sunblock. You're going to need to hydrate well before the sun sets spectacularly behind the San Jacinto mountains. After 48 straight hours of vodka and moshing, you can wander east and recalibrate in Joshua Tree National Park. Like Bono.
2. Glastonbury
Somerset, UK June 24-28 2015
Festival heaven for: Ageing hippies, middle managers who work in the public sector, old-school socialists.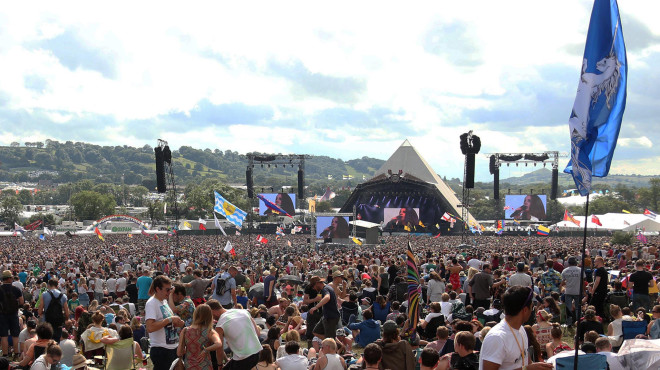 2015 highlights: Kanye West, Foo Fighters, Patti Smith, Pharrell Williams, Motörhead…
These days as much a national TV event as a place to head to with a ticket and a tent, the grandaddy of British music festivals is more and more the festival for grandaddies. It's not only the Moody Blues, Lionel Richie, George Clinton and Motörhead wrinkling up the bill in 2015: with Suede, Super Furry Animals and The Chemical Brothers in full retro effect, this year's Glastonbury looks very much like a 1995 festival line-up fossilised in amber. That said, further down the bill there's much vitality to be found – especially if you stumble into some of the more anarchic cabaret tents and stages dotting the woods and fields far from the Pyramid-stage hordes. And in terms of sheer scale, Glastonbury remains untouchable as a pilgrimage for hedonists of all stripes, where all the ley lines of British pop culture converge. Usually, by day four, into an immense, blasted muddy heap on the floor.
1. Primavera Sound
Barcelona, Spain May 28-30 2015
Festival heaven for: People who look sickeningly good in skinny black jeans, the wayward needing their faith restored in music.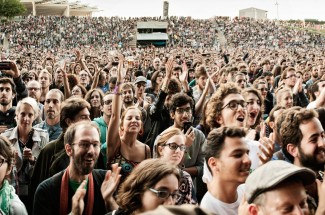 2015 highlights: The Strokes, Ride, Interpol, The Replacements, Panda Bear, Sleater-Kinney…
The Parc del Fòrum grounds have the feel of an industrial carpark and there is a lack of shade from the sun. So bring comfortable shoes and a hat. Boom. Solved. There, now that the minor gripes are out of the way, let's count the positives. The kick-off to the European festival season, Primavera gives you bragging rights on seeing reunions du jour and soaring talent. The masterful bills that read like a collection of year-end best-of lists. Everyone is incredibly kind. The Balearic Sea behind you. Spain. It's no wonder that when our global staff closes our eyes, this is our happy place, where we can get a jump start on our tans while soaking up the blissful grooves of Caribou or the hypnagogic loops of Panda Bear. Ahhh.