Pink Floyd Roger Waters Owned and Played Martin Acoustic Guitar Used to Record a Rare Version of "Wish You Were Here" The auction will open on: 11/13/2019

 Pink Floyd's Roger Waters "Wish You Were Here" unreleased recording used black Martin acoustic guitar from his personal collection of guitars.
Roger donated his guitar to the charity TECHO-Chile Anti-Poverty Charity for their auction on November 20, 2012, and he boldly signed and inscribed the front of the body to the charity in black sharpie pen.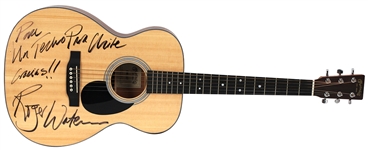 Roger used the guitar to record an exclusive, unreleased version of Pink Floyd's "Wish You Were Here" and also supplied a copyrighted copy of the performance with the guitar.
This copyrighted copy, comprised of a DVD and memory stick that contains Roger's exclusive never-before-published studio version of "Wish You Were Here" comes with the guitar and is for the buyer's personal and private use only, it does not come with any copyrights as it is already copyrighted.
In very good condition, the guitar also comes with a Martin guitar case, a letter of authenticity signed by Bernadita Correa Diaz who worked with Techo-CHILE, photos of Roger playing and holding the guitar, as well as photo from the Techo Chile charity event, and a Gotta Have Rock & Roll™ Certificate of Authenticity. For information about the guitar and the special auction that Roger donated it to, please copy and paste the following link to this news piece that appeared online on Guitar Interactive Magazine:  https://www.guitarinteractivemagazine.com/news/2012/11/roger-waters-auctions-guitar-for-techo-chile-anti-poverty-charity.
A special video that Roger Waters made talking about the guitar while he hold it can be viewed at that link as well, he is speaking in Spanish in the video and there are Spanish subtitles.
Asked what he would say to fans looking for an escape from politics, Waters replied, "Go see Katy Perry or watch the Kardashians. I don't care." "I find it slightly surprising that anybody could have been listening to my songs for 50 years without understanding,"
Waters, now 74, may not pass this way again, but judging by tonight's show (aurally and visually impactful, precise and in parts extremely emotive), he yet again proves his mastery of the immersive arena/rock/theatre form.
No one does it better, or with more depth of meaning. As for the surprise ending – we won't spoil it for those attending on Wednesday night.