Thirty five never-before-seen pictures from the death released by the Seattle Police Department -Courtney Love: A Double Mystery Murder Conspiracy?
Thirty five never-before-seen pictures from the death investigation of Kurt Cobain, the rock legend and frontman for the band Nirvana who was found dead in his Seattle-area home in April 1994, were released by the Seattle Police Department in March 2014. CLICK TO THE PHOTOGALLERY
The photographs taken at the scene at the time of Cobain's death remained undeveloped until recently. The department announced it had developed the film as part of a re-examination of the rock superstar's death investigation, which confirmed it was a suicide.
New images were also released in March of 2016, depicting the shotgun police say Cobain used to kill himself.
In this photo, Kurt Cobain's arm shows his medical bracelet from a drug rehab center in LA that he checked out of days before returning to Seattle, where the Seattle Police Department says, he committed suicide.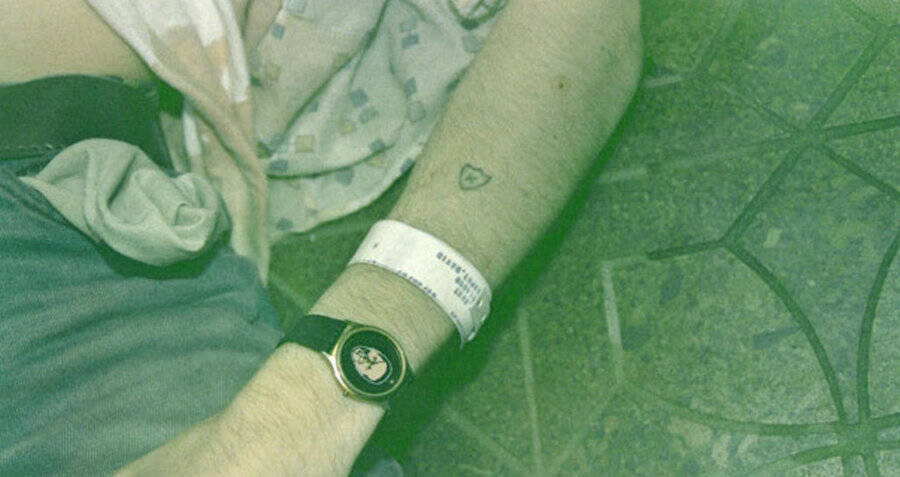 Drawing from personal memories and documents as well as interviews with Love, former bandmate Krist Novoselic, and other family and friends, the book collects stories that Goldberg has told publicly or in interviews over the years into a single volume.
It has already drawn praise from Sonic Youth co-founder Thurston Moore, who was so admired by Cobain that he decided to sign with Geffen subsidiary DGC because Sonic Youth were on the label, and Joan Jett, who was one of several artists who paid tribute to Nirvana when the group was inducted into the Rock and Roll Hall of Fame in 2014.
Recently After the legal action of the former husband of Frances Bean Cobain,  who recently sued Love for attempted kidnapping and attempted murder, the hypotheses on the mystery of Kurt's death reopens.
Frances Bean Cobain's ex-husband Isaiah Silva filed a civil suit against Courtney Love, her business manager Sam Lutfi,  actor Ross Butler, and several others, alleging a conspiracy to assault, kidnap, and attempt to murder him—all over the contested ownership of the 1959 D-18E Martin guitar , the value of which the family apparently believes to be in the millions. If that sounds like an awful lot to believe,    Spin Magazine has reviewed the full suit, retrieved from publicly available Los Angeles court records, and the story it lays out is more jaw-dropping still.
Support Free Press – Every contribution, however big or small, helps protect This Magazine  independence
Paypal donation 1$
Silva's full lawsuit runs to more than 300 pages of material, describing startlingly personal details of family drama and allegations of drug abuse, impersonation attempts, and harassment. As detailed in his suit, Silva claims Cobain gave him the Martin guitar in January 2014 as an engagement gift ahead of their wedding.
Sam Lutfi allegedly supplied drugs to Courtney Love and Frances Bean Cobain
Frances Bean Cobain struggled with a serious drug addiction that allegedly almost killed her
There are so many conspiracy theorists and people who believe that Kurt Cobain was murdered and his suicide staged because there are heaping piles of evidence pointing that way as well as people close to Kurt who strongly believe that he was not suicidal and did not kill himself
• The Motive
Nearly everyone in Kurt & Courtney's circle knew that Kurt was very unhappy with their marriage and intended to divorce her. If he did that, she stood to inherit half of his possessions at best – with him dead, she got everything, including the rights to his music and name which kept her very well taken care of for decades.
Kurt Cobain has recently become the highest grossing dead musician in history, surpassing Elvis Presley, Michael Jackson, and John Lennon, and Courtney Love has benefited extraordinarily from this.
• The Alibi

Rosemary Carroll, Courtney Love's own attorney and godmother to her and Kurt's daughter Frances Bean, believes that Courtney was involved in a conspiracy to murder Kurt. Courtney had accidentally left her handbag at Carroll's house, and after Kurt's death, she decided to look inside. She found two pieces of paper: one was a note Courtney wrote to herself that read "GET ARRESTED." In the days prior to Kurt's death, she was indeed arrested for possession of narcotics . This was supposedly her alibi.
• However, Kurt's body had not yet been discovered, at which point she hired private investigator Tom Grant to locate him then called an electric company to install an alarm system on the greenhouse (the room in which Kurt died) as soon as possible. The electrician who got the job was the one who discovered Kurt's body. Many believe this was her new alibi she manufactured.
05
The second, more disturbing note in Courtney's handbag was a handwriting practice sheet. Kurt Cobain's suicide note has been analyzed by handwriting experts who unanimously agree that the first portion, The very bottom portion – the only part of the note that alludes to suicide – is written differently and has the look of someone trying to copy Kurt's handwriting style. Handwriting experts analyzed this portion of the letter alongside the "practice sheet" found in Courtney Love's handbag, and the form & shapes of the letters match almost identically
• The Accomplice
A local Seattle musician who went by the stage name El Duce came forward after Kurt's death and claimed that Courtney Love offered him $50,000 to murder Kurt and stage it as a suicide. He turned her down at the time, thinking she wasn't serious, but after Kurt's death, he came forward and spoke out about this. In 1996, he died in mysterious circumstances,
• . Another local Seattle musician who goes by the stage name Allen Wrench is believed to be the hitman that Courtney Love wound up hiring Shortly after Kurt was murdered, he suddenly began living far above his means, buying two new cars and a house for himself.
• The Botched Investigation
Seattle PD did a poor job on the case – the chief of police at the time even admitted so himself and stated that it merits being reopened. They assumed suicide from the start, so any evidence suggesting homicide was dismissed. There were many errors in the official report (for instance door where Kurt's body was found was locked from the – this was false, as the door had no deadbolt, just a "push" lock .
• The Inconsistencies
The amount of heroin in Kurt's system was so high (three times the lethal dose) that even a heavy user with a high tolerance such as himself would not be able to inject it, remove the syringe, place it back in his "works" box, roll down his sleeve, pick up a shotgun and use it on himself. He would simply be too incapacitated, as intravenously injected heroin takes effect within mere secon
ds. In addition, the prints on the shotgun weren't legible and appeared as though someone wiped it down – if Kurt handled this gun, loaded it, and shot himself, his prints would be all over it. The fired shotgun shell was also on the wrong side of his body – forensically, given the position he was found in and the way he allegedly used the gun on himself, the shell casing should've been on the opposite side of his corpse. Also, think about this – why would Kurt shoot himself in the head and leave that horrible image for his daughter, the love of his life, to grow up with when he could simply inject a lethal dose of heroin and peacefully drift off to his death?